San Francisco Eichler Homes
Designed in the 1950s-1960s by renown mid-century architects such as Claude Oakland, Anshen + Allen, and Jones + Emmons, Eichler homes are often top-of-mind for Bay Area home buyers that admire the design aesthetic of mid-century modern homes.
Common Design Characteristics of Eichler Homes

Open floorplans
Floor-to-ceiling "walls of glass"
High ceilings with exposed beams
Open-air center Atriums & Courtyards
Philippine mahogany walls (drywall common with later developments)
In floor radiant heat
While the majority of Eichler-built homes are located in the surrounding suburbs, Joseph Eichler had four distinct developments in the city of San Francisco.
Eichler Developments in San Francisco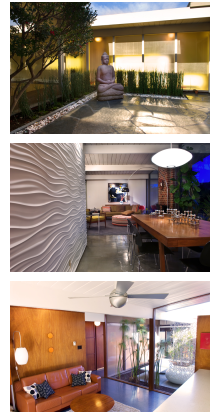 Joseph Eichler's initial housing developments in Northern California were concentrated in the North Bay, South Bay, East Bay, as well as the Peninsula. In 1962, Eichler made his first foray into the city of San Francisco. Eichler developments in the city of San Francsco include:
If you are searching for a single-family Eichler home in San Francisco, your search is limited to Diamond Heights where prices range from $875k-$1.25M.
If an Eichler condominium is more your style, you can choose from either the Cleary Court + Laguna Eichler development in the Western Addition ($600k-$800k) or the high-end Eichler Summit development at 999 Green Street in Russian Hill ($1M-$2.7M).
~ Sign-up to receive Eichler & Modern Home Listing Alerts ~
#1 Agents for Eichler Home Sales
We are the top agents in San Francisco, Marin County and the East Bay for Eichler Home sales and the only brokerage recognized by the Eichler Network / CA Modern as a preferred service provider for real estate in San Francisco, California.
Contact Us if we can assist you in buying or selling an Eichler home in San Francisco! Alternatively, you can call 1-415-EICHLER (415-342-4537) to speak with Renee Adelmann, our Eichler Specialist (and Eichler homeowner), who can assist you with your San Francisco Eichler, Marin County Eichler, or East Bay Eichler home search.