ZAYTOUN: A must see movie!
Posted by Hilary Davis on Thursday, August 22, 2013 at 7:32:06 AM
By Hilary Davis / August 22, 2013
1 Comment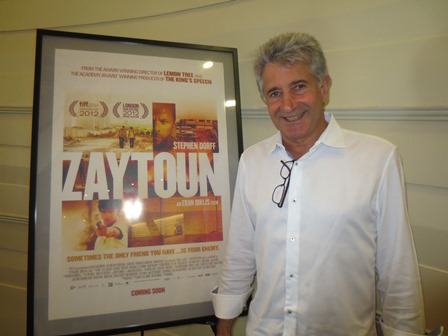 Marin resident, friend and client, Fred Ritzenberg (husband of my childhood friend and go to title/escrow officer Stacey Cooper) has co-produced and co-written a feature film- ZAYTOUN. This film will will truly warm your heart. I had the pleasure of being invited to a private Saturday morning screening of ZAYTOUN at the Rafael Theater in San Rafael. Like all good films there was drama, suspense, humor and a beautiful story line. The movie is set in war torn Beirut 1982 and the story unfolds as an unlikely alliance between a twelve year-old Palestinian refugee and a shot down Israeli fighter pilot and their journey together to a place they both call home. Looking for a good movie; get your tickets early and check this one out! Here is the link for the trailer
Where you can view the film:
NYC on Sept 20th
LA on the 27th.  
It opens across the country in October.  
Mill Valley: MV Film Festival and opens in the Bay Area on October 18th.  
San Rafael: Rafael Theater starting October 18th.  
Fred will do a Q & A at early screenings.
Some key points for ZAYTOUN
Nader Rizq worked on the script for 14 years before Fred came on as producer.
Fred attached Eran Riklis as director because he wanted parity. A Palestinian writer and Israeli Director.
It took three years to develop the script.
The entire movie was shot in Israel. It takes place in Lebanon.
Fred met Gareth Unwin at the Dubai Film Festival wherethey partnered on the film.
Fahed was written as a 10 year old boy, but Riklis decided to make him older.
Yoni was originally written as a pilot in his mid-twenties but when Stephen Dorff boarded the project he was made to be early thirties.
Abdallah El Akal (Fahed) has made 27 movies.
Produced by Oscar winner Gareth Unwin (THE KING'S SPEECH) & Fred Ritzenberg. Directed by Eran Riklis.
It stars Stephen Dorff, Abdallah El Akal, and Alice Taglioni.
Marin is home to many talented and creative people. Its natural beauty, proximity to world class cities, the ocean and wine county all wrapped in a wonderful climate make it an oasis for creative thought!  Curious about Marin County and what it can offer you...call me...full time Realtor-native to Marin.
Hilary Davis, REALTOR    (415)235-3133    Hilary@MarinModern.com