Wildflowers in Marin
Posted by Pam Theroux on Monday, April 4, 2016 at 7:15:39 AM
By Pam Theroux / April 4, 2016
Comment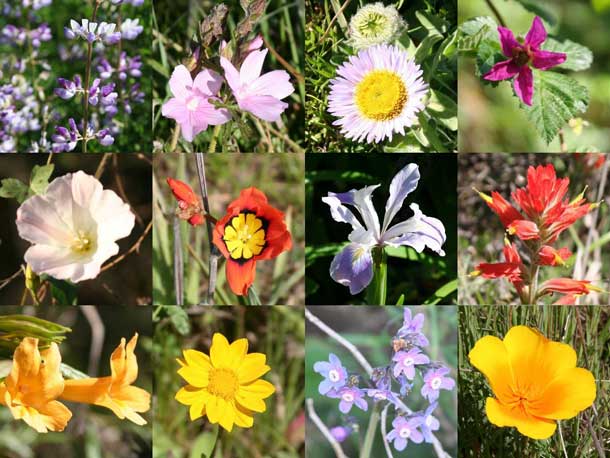 Have you heard of the Bush Monkeyflower?  How about White Wakerobin or Hounds Tongue?   Suncups?  Well, you can find them all in Marin County...they are part of the explosion of wildflowers that can be found from the Marin Headlands to the Ring Mountain hills of Tiburon to Mt. Burdell in Novato and out to the Pacific Ocean. Did you know Marin County has thousands of wildflowers that show their faces from late March thru August?  In fact, Marin has over 30 open space preserves where you can experience wildflowers that are exotic and there are even some that are considered to be rare. So, pack up the family, take plenty of water, some snacks, a jacket and hit some of the trails below:
For a 2 mile stroll, go to Point Reyes National Seashore in the area known as Abbots Lagoon.  As you walk around the lagoon you will see not only great wildflowers , but also some wonderful birds.  There's even an extre half-mile you can add to the trip by detouring onto Great Beach and get your feet into the sand!
If you'd like a big longer hike, there is the Yolanda Trail in Ross Valley.  It's about 5 ¼ miles on the north slope of Mt. Tam.  The Yolanda Trail is open to walkers, hikers trail runners and equestrians (mountain bikes are not allowed).   Keep your eyes open for the wildflowers knows as Monkey Flowers, White Milkmaids and Indian Paintbrushes!
How about a 7 mile hike on the Estero-Glenbrook-Muddy Hollow Road Loop at Point Reyes National Seashore?   Lots of clovers, irises and California buttercups grow in this wildflower  area.  Historical note: this area was burned bare in the 1995 Vision Fire. 
Chimney Rock, also in the Point Reyes National Seashore  is an intermediate level 1.6 mile trek where you can see some of the brightest and prettiest of the wildflowers as well as a spectacular view.  Sometimes there are even some elephant seals hanging out on the beach below.
The Marin Headlands has a 5.5 mile challenging uphill hike from Rodeo Beach to Hill 88 in the Marin Headlands.  It is called the Coastal Trail. At the top of the climb, take in the vies of the Golden Gate National Recreation Area and as you desend down Wolf Ridge Trail and Miwok Trail you will see lots of colorful wildflowers as you pass the Rodeo Lagoon.
For a great list of wildflowers you can find in Marin, listed by color category, go to https://www.nps.gov/goga/planyourvisit/upload/sb-wildflower-checklist.pd.
For more information on wildflower viewing opportunities, open spaces or hikes you can check out www.marincountyparks.org.
If you'd like information on homes in Marin, please give me a call at (415)640-0336...I'd love to open a new door for you!