Why I love living in Emeryville
Posted by Marin Modern Team on Friday, October 14, 2016 at 10:06:29 AM
By Marin Modern Team / October 14, 2016
Comment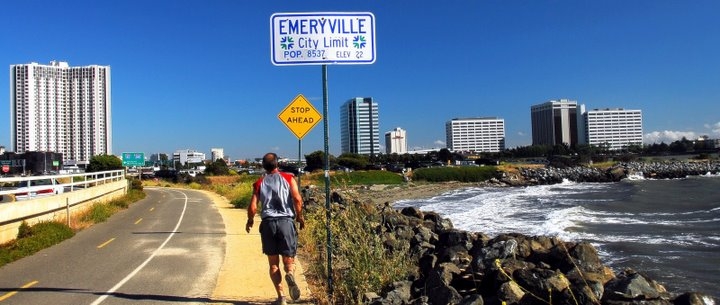 I can still hear my concerned San Francisco friends, when we told them that we are moving to the East Bay: 'It's dangerous and so run down! Don't do it!' - I'm glad we didn't listen.
Emeryville is nestled between Oakland and Berkeley and is a nice mix between industrial buildings, businesses, single family houses and new loft and apartment buildings.
It has a small town feel, after all we are a smaller town for the bay area with only 11 000 inhabitants.
Here's what I absolutely love about living here: 
1.     I can walk everywhere
I walk to multiple grocery stores, the gym, my doctor, coffee shops, restaurants, the mall, the movie theater and yes, to the bar.
2.     Public transportation
Emeryville has its own Amtrak station, a free shuttle bus to BART called 'Emery Go Round', a stop for the AC Transit Trans Bay bus to San Francisco and many other bus stops. And rumor has it: we will get a private ferry service within the next couple of years.
3.     It's close to San Francisco, Oakland and Berkeley
Without traffic it takes less than 10 minutes to go to downtown San Francisco. Of course there is almost always traffic...but: we have a casual carpool stop and if you have 3 people in the car you can use the commuter lane which is faster. BART is a great option: it only takes 7 minutes from the West Oakland BART station to San Francisco and parking there is free after 3 PM and on the weekends. I walk or bike to Oakland and Berkeley. 
4.     The Green Belt
The green belt is a stretch of bike path and pedestrian walkway that connects Oakland to Berkeley and goes straight through Emeryville. It's a nice path to walk or bike, well maintained, with lots of greenery and flowers. I walk it every day and it's a nice way to connect to other regulars and to meet many dog owners.
5.     I know my neighbors
We lived in San Francisco for over 10 years and I only knew some neighbors. Living in Emeryville is different: people are outside more and because it is so walkable, you will meet people on a regular basis. I not only know all my neighbors on the street I live on, but people that live in the general area. It's a nice feeling.
6.     The infrastructure
Emeryville has a lot of businesses. To name a few: Pixar, Peet's headquarters, Clif bar, Bayer, etc. Lots of tax money equates to great infrastructure. The streets are smooth, the parks are maintained well and overall the place city very clean and pleasing to the eye.
7.     Safety
Emeryville does have crime. BUT: I know our police officers and I feel very safe. I sent an email once to the police about something I noticed and the police chief emailed me back within 12 hours. So did, by the way, a city council member in the same time frame about another issue. It feels good to be heard and seen and I know that our police force is reliable and present. I feel safe here.
I am sure I can come up with more reasons. Those are the ones that are most present for me.
By the way: my San Francisco friends like visiting me now. They love the weather and that they can always find parking within half a block from our house.
If you are interested to move to Emeryville, call me! I'd love to show you some available properties and share more about the benefits of living in Emeryville.