WHERE WILL YOU BUY YOUR FIRST HOME?
Posted by Rebecca Perl on Monday, February 18, 2013 at 1:32:18 PM
By Rebecca Perl / February 18, 2013
Comment
3 Things to Know Before Deciding Where to Buy a Single Family Home
In preparing to buy your first home, there are many factors to consider.  With price and interest rates still low, "Now is the time to buy!"  Below are 2 charts created by C.A.R with helpful information for first time buyers; take these steps to begin the process of buying your first home
What is the entry level price for a single family home in the area I am interested?
What will my monthly payment be, including property taxes and insurance?
What is the minimum qualifying income needed to by a home in the area I like?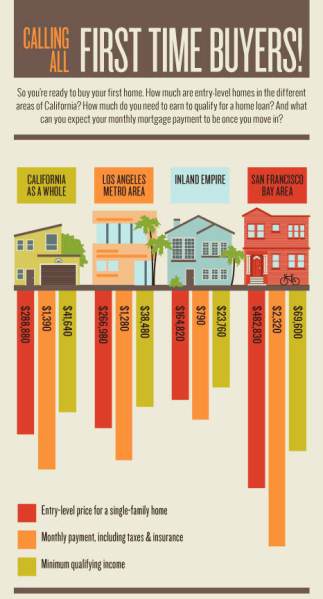 The chart below breaks down price, monthly payment and minimum qualifying income for the San Francisco Bay Area counties; I have highlighted Marin County in yellow.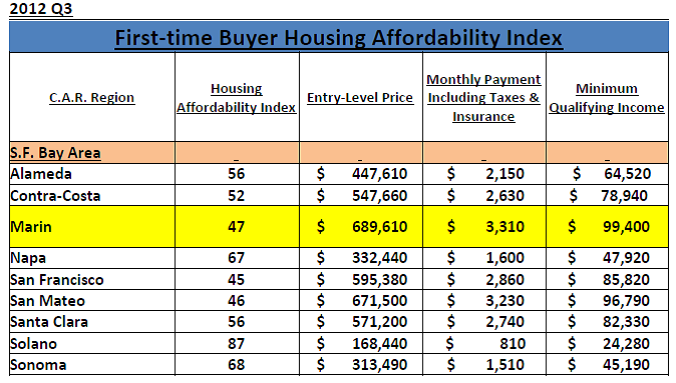 Some additional advice:
Make sure your finances are in order.  There are many types of financing from a 30-year fixed mortgage reguiring a 20% down payment to an FHA loan requiring only a 3.5% down payment.  It is important to consult with a highly experienced mortgate broker or lender to help you get the best interest rate and determine the best mortgage for you.
Know how much you can afford?  Consider your debt-to-income ratio.  A good rule of thumb is your debt-to-income ratio should not be more than 36% including mortgage, property taxes, insurance, student loans, car payment, credit card debt, etc. of your monthly income.  Some lenders will allow a high debt-to-income ratio so consult with your lender.
Reasons to choose Marin County as the place to purchase your first home:
Excellent Weather
Easy Lifestyle
Beautiful Open Space and Parks
Proximity to San Francisco, the Wine Country, Lake Tahoe
Once you have determined where you want to live and what you can afford take the next step by contacting me.  With my years of experience and commitment to service, I will find you the perfect Marin home.