What is a Mobile Loan Signing Agent?
Posted by Marin Modern Team on Saturday, July 19, 2014 at 1:52:34 PM
By Marin Modern Team / July 19, 2014
Comment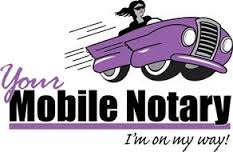 Would you like to avoid the stress and inconvenience of coming to the Title Company during the 9-5 work week to sign a stack of loan papers and closing documents when refinancing, buying or selling a home?  Ask your real estate agent or the escrow officer at the Title Company, to arrange for a Mobile Notary to come to your home or place of work at a time that is convenient for you.  I did, and my clients loved it. 
I recently had clients who chose to sign their closing papers with a Mobile Loan Signing Agent at their home due to logistical challenges in their work schedules.  It certainly was convenient but their situation was a little more complicated than the typical signing because there were multiple Trusts, 3 parties to the Trust and 2 Trustees.  Needless to say, I wondered what to expect.  I have always respected the expertise of escrow officers who know how to explain complicated documents in 10 words or less when signing at their office.  Therefore, I felt compelled to do a bit of research to find out more about Mobile Loan Signing Agents, their background and expertise.
In order to be a loan signer one must first be commissioned as a California notary public so many of these mobile professionals also provide general notary services.  Those notaries specializing in loan signing interpret and explain complex mortgage loan documents.  These may include purchase loans, refinances, HELOCS and reverse mortgages.  Every question of a substantive nature regarding any of the documents or their relevance to the specific transaction is forwarded to a designated representative of the hiring party - usually the escrow office or lender's representative.
 The title company expects signing agents to be experienced and familiar with the loan packages and therefore the vast majority of loan signing agents have been certified upon taking a class and undergoing a background screening by either the National Notary Association or another nationally recognized background screening agency.  They also adhere to strict compliance protocols associated with working as a certified loan signer that includes safe-guarding non-public information.

Loan signing professionals must be approved by each title company on a county-wide basis.  Screening, level of experience and certifications are all part of the approval process to be placed on the title companies "approved" list.
My clients were pleased with the convenience of being able to sign on a Saturday morning over coffee at their kitchen table.   It's nice to be able to offer this service to clients who have busy schedules or for whatever reason aren't able to sign at the title company.  If you are looking for a Mobile Loan Signing Agent, I recommend contacting  Mobile Notary 415  (www.mobilenotary415.com) based in the North Bay but servicing  Marin, Sonoma, San Francisco, Alameda and Contra Costa counties.  
Janis Peterson, Realtor, 415-271-3109 or Janis@MarinModern.com