What Do Realtors Drive?
Posted by Marin Modern Team on Sunday, March 30, 2014 at 2:51 PM
By Marin Modern Team / March 30, 2014
Comment
I have been wanting to write about this subject for a while because I wanted an excuse to rave about my car. But, I just saw the perfect ad to compliment my article. It cracked me up.
Did any of you see the Cadillac ad that debuted during the Olympics that framed Americans as white, spoiled, Type A, overworking zealots that only take two weeks off in August so that they can buy more stuff? In the ad, the guy talks too fast, loves his stuff, his family, and his car. Kind of in that order, too. What really irked me about the ad was that I really LIKED the ad! It was so well done. The message just pissed me off. (And I am not a fan of Cadillacs.)
I am a Ford owner. I drive a Ford Fusion hybrid plug in, which is a fancy way of saying that I get between 90 and 160 miles per gallon.
We have been driving Fords since the mid 1990's. It's not that I have had anything against international car companies or that I am particularly rah-rah about American built products. Rather, my brother-in-law works at Walnut Creek Ford and he could get us good deals on slightly used cars. Actually, I was not very happy with the early Fords that we used to drive. Too clunky. But, hubby was always looking for ways to save money:arrgh.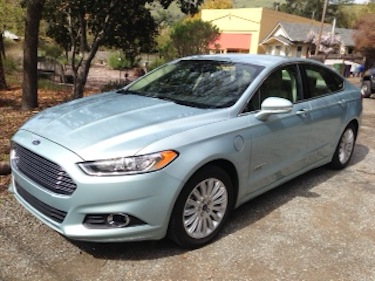 But, now, I drive a Ford because I wanted a plug-in car that both provided luxury comfort with a reasonable price tag. So, Tesla was out by default (price tag) and Prius was out as well due to god-awful handling and over-all lack of comfort. The Leaf was just too small for my clients to sit in the back seat. I truly did not believe my husband when he told me to look at the Ford Fusion Energi.
I have been driving it since late August of 2013. I love the quiet when the engine is off (most of the time thanks to regenerative braking and a well designed rechargeable battery that often takes me through most of my day). I love the handling and power;it has great pick up and exceptional turning radius. I am in the hills of Marin much of the week, sometimes for hours at a time. My Ford loves Marin hills. I love my Ford. Watch the commercial. it is really good. And let me know what you think.
What do Realtors drive? Actually, not that many drive a Ford Fusion Energi plug in--yet. But, they should be.