Weekend Fun: San Rafael Food and Wine Festival
Posted by Marin Modern Team on Friday, August 9, 2013 at 10:44:33 AM
By Marin Modern Team / August 9, 2013
Comment
If you're looking for something fun to do while your kids are at a play date, then the San Rafael Food and Wine Festival might just be your ticket to a good time. Your summer has been spent catering to your kids, planning vacations, and maybe even working a little. Now is the time to splurge on you.
The San Rafael Food and Wine Festival is this Saturday, August 10 from 1pm to 5pm at the Falkirk Cultural Center, 1408 Mission Ave here in downtown San Rafael. This annual festival is $30 at the door or $25 if you pre-order tickets through their website. If you do decide to purchase tickets at the door, the San Rafael Food and Wine Festival is a "cash only" event. 
Upon arrival, attendees will receive a wristband and a wine glass for the tastings. Local food vendors will be showcasing some of their goodies, and live jazz will be playing in the background. Who doesn't love smooth jazz? If you haven't purchased tickets, I suggest you get there early, even though you can purchase tickets until 4:30pm. The last pour will occur at around 4:45pm. 
If the food at the festival isn't your thing, don't worry. You're in downtown San Rafael! There are tons of other food options, (two of my favorites being Royal Thai and Pizza Orgasmica), just blocks away.
This is a great festival to hit up before the weather skyrockets to scorching hot again come the end of the month (I mean, it has to, right?). Enjoy some wine, eat some scrumptious food, and have a blast!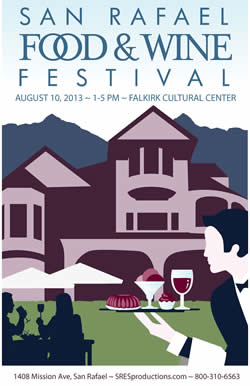 Photo courtesy of Steven Restivo Event Services, LLC; artwork by: Kyla Kaplan