Consumer Warning: When an Agent Says They Have a Buyer for Your Home
Posted by Renee Adelmann, Bay Area Modern on Monday, January 11, 2021 at 1:21 PM
By Renee Adelmann, Bay Area Modern / January 11, 2021
Comment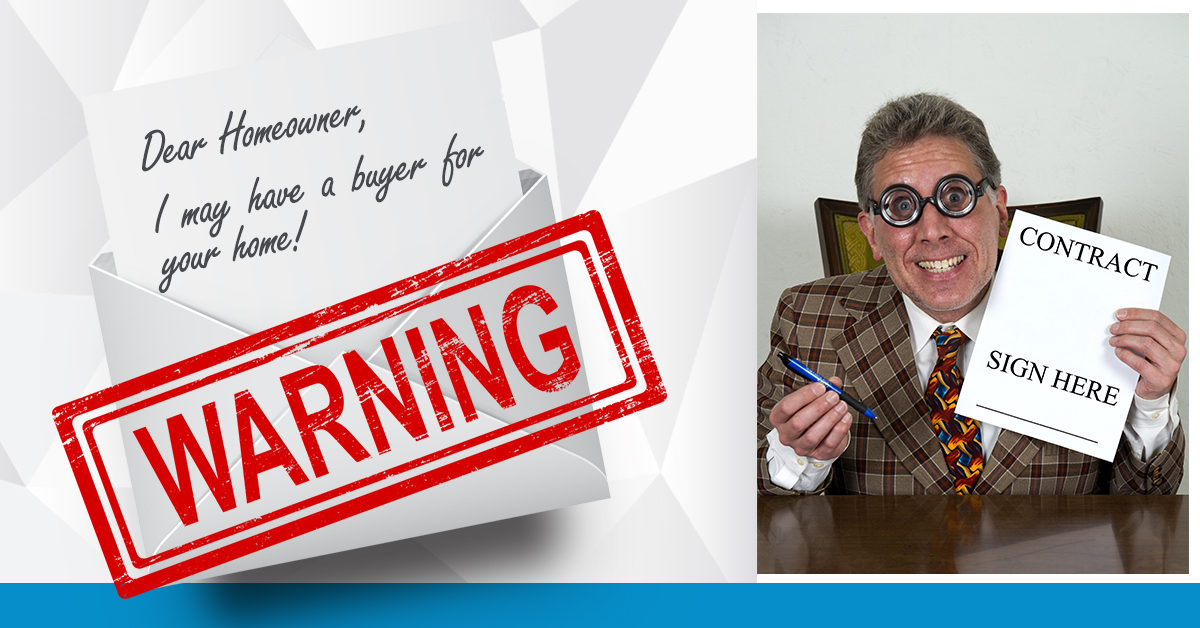 Several times a year (usually beginning in late winter or early Spring), we have homeowner clients contact us because they received an eye-catching letter in the mailing from a local real estate agent claiming, "I may have a buyer for your home" (even though their home is NOT even listed for sale).
CONSUMER WARNING: In most cases, "I Have a Buyer for Your Home" letters are poorly disguised solicitation letter from agents wanting to LIST YOUR HOME FOR SALE --- NOT because they have actual buyers for your home. Your best response is to call a trusted local Realtor, not reply to the solicitation letter.
We believe this "I have a buyer" letter marketing technique from wanna-be listing agents is misleading and unethical however as you can see from a simple online search for the phrase "I have a buyer for your home letter", it's a sales technique that is taught by many real estate sales trainers to help agents prospect and obtain listings. Currently, Google has about 257,000 results for the exact search term "I have a buyer for your home" (CLICK HERE to see search results), many providing form letters that likely resemble what you may have received in the mail. We'd encourage you to read thru some of these neutral search results so you can better understand that this is a prospecting technique utilized by some real estate agents wanting to list your home for sale.
As an ethical real estate brokerage, we find these types of letters deceptive and misleading (especially since they rarely have a homeowner's best interest in mind) however they are easy to spot IF you are aware of this old school sales technique which is designed to:
Get you excited about the possibility of a quick and easy sale since the agent claims to have a qualified Buyer who is already looking for a home in your neighborhood (or recently lost out on a home in your neighborhood) and your home could be the ideal fit for them.
Have you call the agent that sent you the letter right away. When you call the agent that mailed the "I have a Buyer Letter", it signals to the agent that you are at least considering the possibility of selling your home which is often the primary goal --- to identify homeowners that are thinking of possibly selling.
Have you schedule an in-person preview of your home to "see if it's right for their clients". Once in front of you, they may say that your home doesn't quite fit their client's parameters OR they may even want to bring a client by to take a look HOWEVER, in many cases, they don't have an actual buyer for your home (which is why you called them in the first place). At this point, you've already invited them into their home so they'll often use that time with you to hard sell their services and get you to list and sell your home with them.
We believe the approach is unethical at best and feel it's important for our friends and neighbors to be aware of this practice. It is our strong believe that truly successful listing agents obtain listings thru hard work and documented results, not by trying to establish a relationship and get signed listing agreements signed thru deceptive sales practices.
If you do receive a letter like this (or if you are thinking of selling your home), our suggestion is to simply call a trusted and proven local Realtor in the community. They can act in your best interest (including reaching out to the agent that sent the letter and all agents in the community) to help insure your home gets the best exposure before listing and selling it for top dollar.

Contact our team at 415-233-6821 or Email Us if we can assist you in any way with your Bay Area real estate needs.