Tudor Revival in San Rafael's West End Neighborhood
Posted by Marin Modern Team on Saturday, January 12, 2013 at 5:51:24 PM
By Marin Modern Team / January 12, 2013
Comment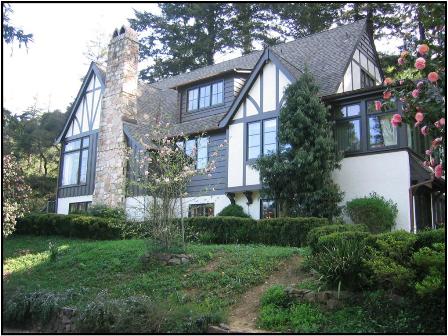 Walk up Spring Grove and you will find a West End architectural jewel with a history.  It is an elegant Tudor Revival home built in the mid-1930's by Thomas & Mina Feeley of San Francisco on almost 3 acres of undeveloped forest.  Today, what was once a hunting lodge seems out of place among the newer wood sided homes built in the 1980's.
In 1940 the Motzer family, who owned a chain of bakeries in San Francisco, purchased the home from the Feeley's as a hunting lodge and for entertaining. Fred Motzer had elaborate brick ovens built which are still standing today.  He also built a swimming pool in a clearing at the far end of the property.
Torrential rains in 1949 sent water and debris down the hill onto the Motzer's property resulting in a lawsuit.  Motzer sold the property around 1950 to a journalist who never lived in the home and who resold it a year later to Thomas & Nina White in 1951.  When Thomas died in 1953, Nina White subdivided the property and sold a portion of the property Harry Winters where he built his Frank Lloyd Wright home that I sold a couple of years ago.
In 1977 Doug Hancock and his wife were living in the hills of San Anselmo, expecting their second child when their realtor showed them this very unique property.  Extravagantly priced, they were captivated by the home's unique qualities, the Redwood Grove with wood hewn picnic tables, the swimming pool situated in a clearing that captured the light perfectly, and best of all being surrounded by nature at the end of the road. There was no need to go on camping trips. They could pitch a tent in their own Redwoods under the stars.
The swimming pool was a big concrete box. When Charlie West lived in the house he would call the fire department once a year to fill the pool.  It was 7 feet deep without a filter or heat. The Hancock's added a filter system and later solar panels to take the edge off the cold water.
Fast forward to today to the current owners, who purchased the home in 1999. They lived in the home for over 6 years before moving out for a year while the home was completely renovated and modernized with great care taken to retain and enhance its historic character. A basketball court has replaced the pool that was filled in.
The West End of San Rafael is an architecturally diverse neighborhood with many historic homes.  It is also very walkable to downtown San Anselmo and San Rafael.  If you're looking for a home with character, charm and a history, give me a call.  I'm a West End Neighborhood real estate specialist.
Janis Peterson, Realtor, 415-271-3109 or [email protected]