TOP 10 Items You Should Have in Your Car
Posted by Marin Modern Team on Monday, January 4, 2016 at 6:06:13 PM
By Marin Modern Team / January 4, 2016
1 Comment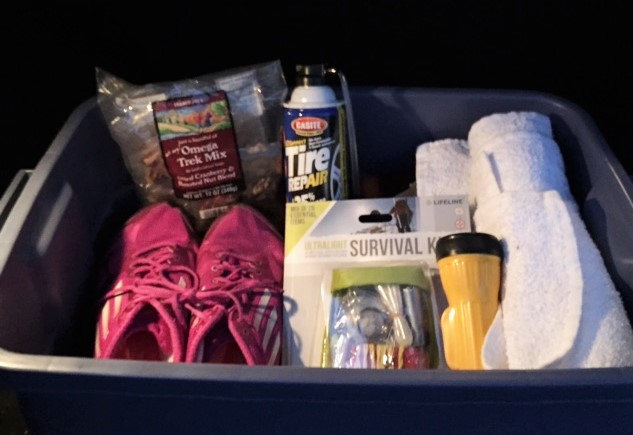 Here in the Bay Area, otherwise known to some as "Earthquake Country", most people know the importance of keeping a few essential items in your car in case of emergency.  Even if you just find yourself in a super inconvenient traffic situation, you want to be prepared.  Like most of us, I sometimes need a reminder to freshen up or re-stock the carton of supplies in the back of my car, so I figure some of you could use a reminder too.  As the New Year arrives, and El Nino seemingly gaining momentum, this is a great time to replenish emergency supplies in your car.
Here's my TOP 10 List of the non-negotiable things you need to keep in your car.
1. First aid kit
While I'm certain you have a first aid kit at home, having one available when you're on the road should be a no-brainer as well. If unexpected injury or mild illness hits when you're out on the open road, at the park, or even just doing your shopping and errands, you'll feel prepared if a simple first aid kit is easily accessible when you need it.  I include antihistamines, as well as all the usual band aids and disinfectant in ours, just in case of an unexpected allergic reaction to insect bites or unforeseen allergies occur.
2. Emergency food and water
If you are ever caught in a storm, or a heavy traffic jam, or have a fussy, hungry child - or husband, or if it's you who is fussy and hungry - you'll be grateful for having quick and easy snacks immediately on-hand. Throw in some small bags of trail mix, granola bars, or your favorite crackers, and a few bottles of water. Remember, these items need to be replenished or swapped out periodically.
3.  Extra tennies or walking shoes and socks
If your car breaks down, or God forbid, there is an earthquake or other serious emergency, you may find yourself having to walk for some distance.  Since we never know when something like this can occur, it's smart to have a good pair of comfortable walking shoes and socks stowed in your car.  Some folks also store a rain poncho and/or a sweater or windbreaker as well.
4. Blankets
If you were to get stuck in a storm, or your car won't start for some reason, and you have to wait a while for help, you will be glad you stored a blanket or two in the back for warmth and comfort.  Also, if you are involved in or are just a bystander to an accident, warm blankets can help those injured avoid going into shock until medical help arrives.
Blankets also come in handy if you are moving something valuable and want it to be protected in your trunk or back seat from any damage while driving.
5. Spare tire and tools
Tires can be punctured by nails or difficult roads when least expected. Be prepared by keeping a good spare tire in your car. Full sized spares are best but if you don't have the space or ability to purchase a normal size tire, those baby (temporary) ones work well in a pinch.
In order to put the spare on you'll need tools - these often come with car or you can purchase kits. Even if you have a Road Side Assistance membership, sometimes it's just not worth the wait if you're somewhere remote. 
You also might want to buy a can of tire sealer for a few bucks at your local auto supply store to keep in your trunk.  Tires will often slowly deflate instead of going flat right after incurring damage.  The quick sealer can save you from having to change your tire at the side of the road. Apply this and drive to a tire store as soon as possible for a proper repair.
7. Ice scraper
If you're heading to the mountains, ice can build up fast on windshields and you don't want to be out trying to use your tender pinkies to scrap off ice. You've probably seen people use credit cards in a bind but why mess around - use that credit card to buy a $5 scraper and tuck it in your glove box or under your seat.
8. Flashlight
You don't need a fancy flashlight in your car so buy a basic one and keep a few extra batteries nearby. If your car breaks down, you have to fix a tire, have to walk to a gas station after dark, or are trying to signal to other cars, you'll thank yourself for having a flashlight bigger than your cell phone that works!  
9. Car manual
Every car should come with one of these, but if it didn't contact your car manufacturer, find it at an automotive shop, or download it from the web, and keep it in your glove box or somewhere else handy. These manuals are invaluable when it comes to diagnosing small problems that may come up, as well as instructions for changing the time on your dashboard.
9. Jumper cables
Jumper cables can be found at any big box or auto store and are relatively inexpensive. If you leave the lights on inadvertently, your battery can drain fast and you'll be thankful you have these! Not only will jumper cables come in handy if your own car won't start - but you'll be the hero to your friends and other stranded motorists you can rescue who don't have them in their cars!
10. Towels or rags
I'm always surprised by how often I use the old towels and/or rags that I have hidden in my trunk. It's a relief to know they're there when coffee spills or when there's a real down pour and you and others on board get soaked.  (Again, think El Nino.)  And, you'll be so glad when you, or the kids, have something to dry off with the next time you just can't fight the urge to wade into the ocean or a gurgling creek on your next outing.
A couple of other helpful reminders about things you need in your car...
By law everyone is required to keep a copy of the registration and proof of insurance with their vehicle in case of an accident or if pulled over by authorities, so let's hope this is already a done deal.  Having said that, it's also wise to keep a copy of each at home so you have an easy record of it in case your car is stolen.
Now, if you have questions about buying or selling real estate in the North Bay, don't hesitate to call me since I also have a list of things you need to know about safely navigate our dynamic market.  I can be reached at 415.596.0778 or at pnichols@marinmodern.com and I'd be delighted to talk with you.