The Importance of Staging & Professional Photography
Posted by Ary Assadi on Friday, September 18, 2015 at 8:46 PM
By Ary Assadi / September 18, 2015
Comment
When representing clients with the sale of their property I'm often asked about the importance and even necessity of staging the property and employing professional photography. While both of these services come at an additional cost, my answer is usually a resounding YES, it is important! Here are 3 of the main reasons why:
1-   The National Association of Realtors reports that the price reduction for homes that are not staged can be anywhere from 10%-20%. In other words your home is likely to sell for substantially more if it is staged.
2-   Homes that are staged stay on the market for a significantly less amount of time than those that are not. On average 23 days or less!
3-   Now if you're going to spend the money to stage a home then it's surely for nothing if you're not going to showcase it with high quality, professional photography.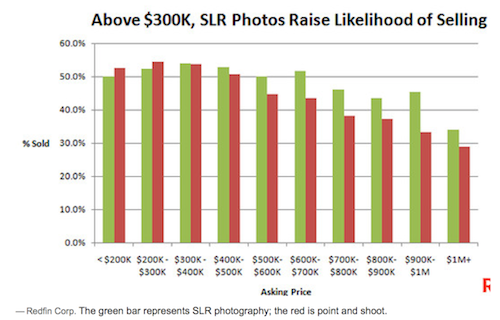 In the days before the internet, a home's first and most important impression was made by driving by, or by it's curb appeal. In today's internet age where almost 90% of buyers search for properties online, your photos matter more than ever. A study performed by Redfin and reported in the Wall Street Journal, found that listing with professional photos can result in a higher sales prices ranging anywhere from $934 to $116,076. Yet only about 15% of listings incorporate higher end photography! You'd be surprised how often I see images of million dollar homes with dark, blurry photos taken with a cell phone, showcasing a home strewn with personal belongings and bathrooms with their toilet seats up.
Although there is never a good excuse for taking your own photos as a realtor (unless your other profession/hobby is photography), there are circumstances of course where staging a home may not make the most sense. For instance, when it proves to be too cost prohibitive, or when the sellers of the home are still residing in the property. Some realtors will make the argument that they've been selling homes for years without spending any extra time or money on staging or photography. While that may be true, as a seller you should ask yourself if they are truly making the best effort to sell your home for top dollar. Luckily, when having East Bay Modern represent you with the sale of your home this will not even be a topic of discussion, as we insist on and will personally pay for professional photography services. I always use Leila Seppa Photography and the quality of the work speaks for itself, both visually and in terms of the final sales price!
Ary Assadi
East Bay Modern
415.216.5653/Ary@EastBayModern.com