2017 SUMMER VACATIONS...Air Travel Etiquette!
Posted by Rebecca Perl on Monday, June 5, 2017 at 12:23 PM
By Rebecca Perl / June 5, 2017
Comment
As the school year comes to an end, many vacationers will be making travel plans. Most of the vacation planning will be around air travel arrangements to visit family, theme parks or international destinations. Airlines are filling their flights to the max and airports will be extremely congested. It is important everyone learn the "Etiquette of Airplane Travel". Having traveled twice in the last month, here a few of my etiquette recommendations: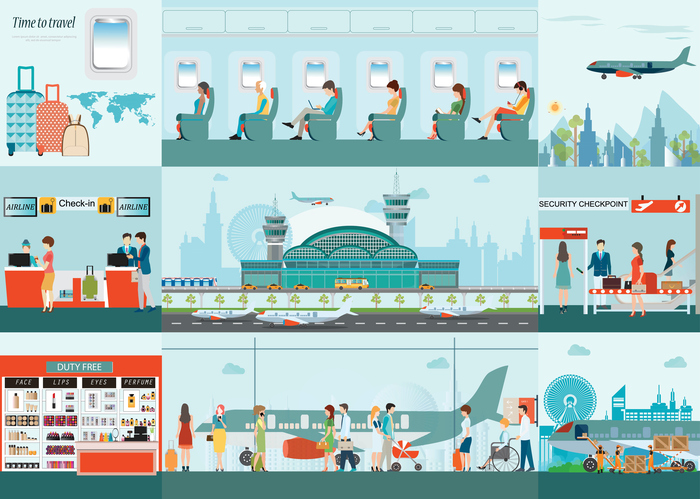 Navigating Security
Whether you are a TSA Pre-Check or old school, the basics are the same. Normal security requires you to remove your shoes (slip-ons are best), belts, jewelry, coins, keys, cellphone, laptops, E-readers, etc. from pockets, handbags and carry-on luggage. Remember NO liquids, lighters, nail clippers and scissors. Yes, I witness security pulling a pair of scissors! DO NOT wait until you are at the bins to start this process…it holds up the line. Focus on the security agent keeping your children focused also. Once through security collect your items and move to a near-by bench. If all travelers are prepared, this should be a 10-minute process.
Overhead Bins
With the recent charges for checked baggage, the overhead bins have been greatly abused by travelers. Test your bag to make sure it meets the size requirement. Bags are to fit into the overhead long way in, wheels forward…no putting your bag in sideways. There is nothing worse than waiting in the aisle of the plane while another passenger stuffs a too-large bag into the overhead bin. Even worse, is sitting under a bag being hoisted into the overhead or being bashed by a passenger wearing their stuffed backpack on their back. If your bag is too heavy for you personally to place in the overhead, check it. As you move down the aisle, stick your carry-on in an empty spot where the seats under are already occupied.
Cellphone Use
You all know the drill – turn your phone on airplane mode or off before takeoff. During the boarding process when everyone is hot and crowded, the last thing anyone wants to listen to is your phone conversation. Keep it to text and/or email! This also applies upon landing. Work or mom left you a voicemail? Wait until you are not stuck with 300 people listening to your conversation to return the call. We do not want to know your business.
Armrest Rules
As space on airplanes gets smaller and smaller. The rule of thumb is window get the armrest by the window, aisle get the aisle armrest. Respectfully, the poor person having to suffer in the middle of two strangers should get both middle armrests. No one wants to share an armrest with a stranger so watch your elbows!
Seat Space
The whole seat belongs to one passenger as well as the leg room in front of the seat. The only space shared by the person behind you is the tray table and storage space. Be courtesy of the passenger in front of you. Carefully lower the tray table and place items gently in the storage area. Do not use the back of the seat for your feet or as leverage to pull yourself up from your seat. Avoid kicking and knocking the back of the seat.
Safe Carry-On Foods
If you are going to be on the plane for a few hours, it is wise to try to eat before boarding. Snack foods such as nuts (maybe not peanuts), granola bars, fruit or chips work best for carrying on the plane. Of course, water is essential. Under no circumstances bring a tuna fish sandwich, garlic anything, hard-boiled eggs or any food with a pungent smell. Just like body odor, you may not smell your own, but everyone else can. Be mindful of this, as you never know what can make another passenger queasy.
Happy travels this Summer! Make everyone's journey better!
Should you be not be traveling this Summer, but interested in buying or selling give me a call. It's a great time to get ready.