Station House Townhomes Breaking Ground in West Oakland
Posted by Ary Assadi on Saturday, March 26, 2016 at 11:16:58 PM
By Ary Assadi / March 26, 2016
Comment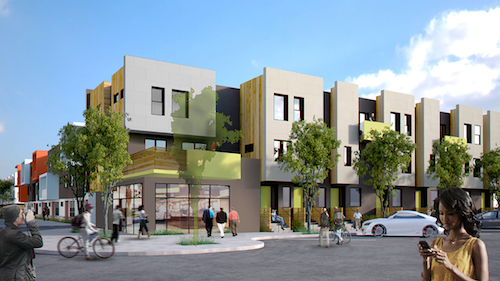 (photo courtesy of City Ventures)
Oakland's latest housing project is well underway! A significant portion of the exterior framing has been completed on West Oakland's latest housing development know as The Station. The project is being built by the developer, City Ventures and will consist of 171, 2 and 3 bedroom townhouses that will be offered for sale, as well as 4,500 SF of retail space. This is the first major resdiential development in West Oakland since 2008 and proves to be just one of many new projects in Oakland's recent development boom. The units are being touted as all electric and solar powered and will bring much needed economic and residential vibrancy to this rapidly changing West Oakland neighborhood.
Although pricing has yet to be determined, the townhouses should be ready for the market towards the latter part of this year. The 3 story units will each have a private ground floor garage, a second level living area, with separate bedrooms located on the third floor. Green areas, restaurants and shops will seemlessly merge into one in this innovative residential community. More information can be seen in this video.
As a realtor actively plying my trade in Oakland, this is indeed very exciting news! Please let me know if you'd like to be kept informed about this, or any of Oakland's other real estate opportunities.
Ary Assadi
East Bay Modern Real Estate
415-216-5653
Ary@EastBayModern.com