Stand-Up Paddleboard in Marin County: rentals,lessons,clinics, sales & races!
Posted by Hilary Davis on Tuesday, July 26, 2011 at 7:13:59 PM
By Hilary Davis / July 26, 2011
1 Comment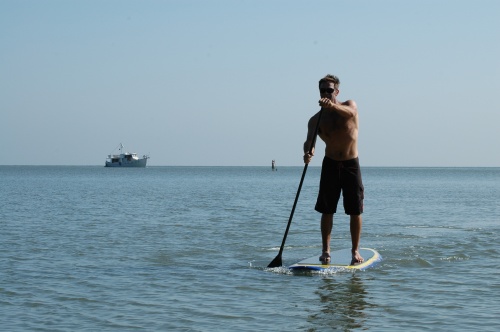 When vacationing in Tahoe not long ago, I saw a young man out on the lake standing up on what looked like a surfboard with a paddle in his hand.  I thought, what the heck is he doing? I soon learned he was stand-up paddleboarding; a sport of its own that's quickly gaining popularity worldwide!
Stand up paddleboarding is a fast growing sport in Marin County as well.  And it is no wonder, with access to water ways throughout the county, sport enthusiasts and water lovers have a new fun adventure to participate in.
A stand up paddleboard (SUP) is a wider, thicker version of a surfboard.  Originating in Hawaii, surfers stood up on their boards to gain better vantage points of on-coming waves and used canoe paddles to maneuver.  However, SUP is not just for surfers. SUP is...
For those who want an excellent full body workout that engages the core muscles, while testing ones balance.

For those who want to enjoy serene beauty out on the water.

For those who want a challenging, fun and adventurous sport that can be enjoyed alone or with others.
I have not tried SUP yet, but it sure looks like a lot of fun.  If you are interested in checking the sport out, below is a list of the main places in Marin for lesson and clinics, as well as rentals or purchases. There are even SUP yoga classes and races! From Sausalito and Tiburon to Stinson Beach and Inverness, there are many beautiful locations to luanch your board!
In San Rafael:  Demo Sport
In Sausalito:  Seatrek, Bluerush Boardsport
In Corte Madera:  Outback Adventures
In Stinson and Bolinas:  Stinson Beach Surf and Kayak
In Pt. Reyes and west Marin:  Blue Waters Kayaking
Demo Sport, in San Rafael, is hosting the next two  races in Marin.
October 1, 2011 is  the Hog Island Huff in

Tomales Bay

.
For information on SUP races everywhere else.
I love finding new ways to enjoy Marin. I also love finding new homes for my buyer clients and new buyers for my seller clients! If you are curious about current market conditions and would like to talk to knowledgeable realtor and life long resident of Marin County, then please contact me today.  Knowing your options is the first step to making a move whether you are buying or selling. I'll take time to listen to your needs and act as valuable resource for you. I can easily be reached by phone (415) 235-3133 or email [email protected]. I look forward to chatting with you soon!