Simpatico Homes Prefab Workshop
Posted by Marin Modern Team on Monday, April 23, 2012 at 6:08:13 AM
By Marin Modern Team / April 23, 2012
Comment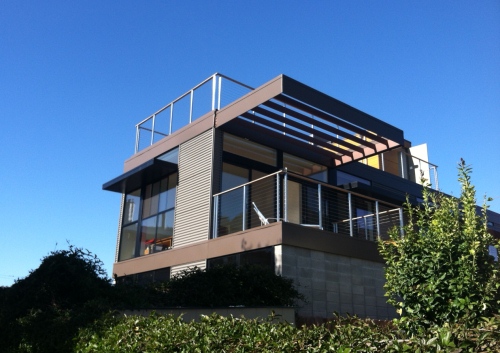 I wanted to thank all of the speakers as well as the attendees at the "sold out" workshop we held this past weekend entitled Building a Prefab Home Home in the Bay Area.
This was a very special event designed to educate our clients on the process of building a modern prefab home in the San Francisco Bay Area.  Event speakers included Seth Krubiner (Simpatico Homes), Robert Swatt (Swatt Miers Architects), Richmond Chester (Land Home Financial), Ken Fox (East Bay & San Francisco Modern Real Estate) as well as myself.
Discussion topics included:
Building a Prefab Home - Form, Function, Footprint
The Simpatico Home Building Process
Procuring Land
Financing
Additionally, the event featured a walk thru tour of a constructed
Simpatico Model Home
in Emeryville, California.
Interest in this event was extremely high and while hundreds registered to attend, we weren't able to accomodate all of our clients at this particular event because of meeting space limitations.
Fortunately, we intend to host another event in the near future so we'd encourage you to stay tuned for more details.   Additionally, you can contact your Marin Modern, East Bay Modern or San Francisco Modern Realtor directly if you would like immediate assistance or to simply discuss your Bay Area real estate needs.
RENEE ADELMANN, Realtor & Owner
Marin Modern Real Estate / East Bay Modern Real Estate / San Francisco Modern Real Estate