SF Modern: A Good Thing Just got a Whole Lot Better!
Posted by Marin Modern Team on Wednesday, May 9, 2012 at 7:38:35 AM
By Marin Modern Team / May 9, 2012
Comment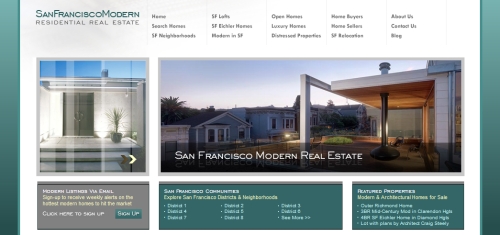 As you might imagine, we have many clients that are either committed to move to Marin but need to sell their home in San Francisco first OR are cross-shopping and are trying to decide which side of the Golden Gate Bridge they want to live on (Marin or SF).  
As a company we've been investing a lot of time and energy recently into helping our clients make this decision (or more specifically, researching this decision and exploring their housing options in San Francisco) a little easier.
For those Bay Area real estate "cross-shoppers" as well as those that need to sell in SF prior to moving to Marin, I'm pleased to announce the official re-launch of our San Francisco Modern Real Estate website.   
Visitors to our San Francisco-centric real estate website will find an amazing amount of information (& photography) detailing San Francisco's 90+ neighborhoods, 10 distinct districts and overall real estate trends.   As you'll note, we worked very hard on creating unique value-added content for our clients and the best way to explore the site is by surfing the site which has thousands of pages of unique content.   
As you explore the new site, be sure to take a look at some of the more popular page which include:
We hope you enjoy our new San Francisco Modern website and encourage you to contact us if we can assist you with your San Francisco, Marin or East Bay Real Estate needs.
Renee Adelmann, Owner & Realtor
Marin Modern Real Estate / San Francisco Modern Real Estate / East Bay Modern Real Estate