SF Beer Week comes to Oakland: Have a Wonderful Week
Posted by Marin Modern Team on Tuesday, February 11, 2014 at 11:25:51 AM
By Marin Modern Team / February 11, 2014
Comment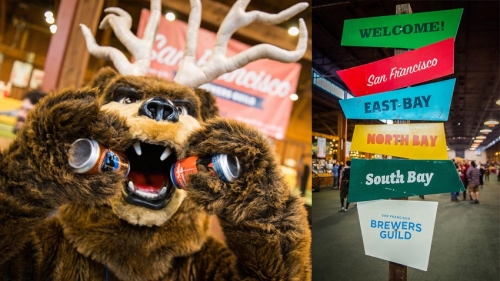 You can take the girl out of the Midwest but you can't take the Midwest out of the girl... always in search of a good homemade dog like the ones we used to get from a local butcher in Keokuk for our weekly back yard wiener roast.
Finally, good beer/sausage gardens are popping up all over the Bay Area and this week, forget about Valentine's Day, it's Beer Week!  Along with the home brewed beers in plentiful supply, many of these pubs offer a variety of homemade sausage as well.
Let's start with Rosamunde Sausage Grill, located in Swan's Market, an historic landmark turned gourmet hub of Old Oakland downtown. Add to that the next door neighbor Taylor's Sausages, who have been making sausage for over 40 years. They are proudly served on the menu along with Rosamunde favorites; 16 craft beers on tap, more than a dozen sausage choices from Louisiana hot links to vegan apple sausage as well as roast boar and duck. There is a schedule of events planned every day until Sunday, in celebration of Beer Week.  Rosamunde has locations in Williamsburg, Brooklyn; on Haight St. and on Mission in San Francisco and now the downtown Oakland.
In addition, on the waterfront is Brotzeit Lokal offering nine kinds of sausage from bratwurst to knockwurst to Wurzige, a spicy chicken and pork combo.  On 10th St., Ale Industries will open a brewery in late spring.  There is Telegraph, a beer garden at 22nd St. and Telegraph Ave and Hog's Apothecary on 40th St. near Broadway.  In the coming months there will be another brew pub, the Diving Dog Brewhouse at 18th and Telegraph. If these aren't enough to keep you in downtown Oakland, there's more.
Aunt Mary's Cafe at Telegraph and 43rd St and Full House Café on MacArthur Blvd in Dimond District.  Both have very tasty homemade sausages coming out of their kitchens and are favorite weekend brunch spots.
In other words, we are in "hog and brew heaven" over here on the sunny side of the Bay.