Selling Your Marin Home - How do I prepare?
Posted by Lea Kuehnhackl on Friday, May 27, 2011 at 7:43:22 PM
By Lea Kuehnhackl / May 27, 2011
1 Comment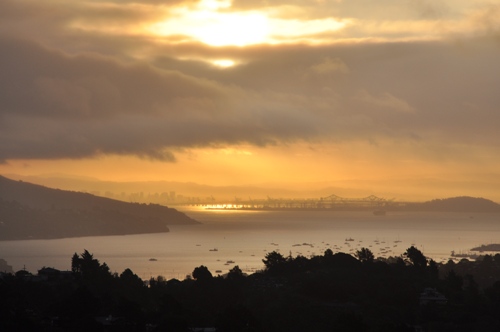 Deck Views from Mill Valley 
As I was sitting on the deck of my Mill Valley home this morning, I was thinking about some friends who are getting ready to move. They asked me what they should do to get their house ready to sell. There are many things that can be done, many of them simple and quick, which can make your home more appealing to potential buyers. 
For most sellers, selling a home is an emotional time. The house isn't just four walls, it is a place where they have built memories, raised families and felt safe and secure. When getting ready to put your house on the market, take some time to consider a few of the following points.  
Mentally and emotionally separate yourself from your home. You are now selling a product that must appeal to the masses. Understanding that, remove personal items such as family photos, refrigerator door art, etc...not everyone has your taste, so when in doubt, make your home as neutral as possible. This may be an emotionally hard thing for you to do, but remember, you want the buyers to picture themselves in the home, and seeing pictures of your family might not allow them to do that.
Remove the clutter. Give your home an open feel. If need be, rent a storage unit. Pack up any knickknacks you have (as cute as they are, not everyone will appreciate your teapot collection), take books off bookshelves, and clean off countertops. If you have items that you use on a daily basis, have an area where you can store them out of the way while the house is being shown.
Know that buyers will open every drawer and door. Take the time to straighten up the silverware drawer, fold the towels in the linen closet, and pack up all the board games in the hall closet. Nobody wants to open a door and be overwhelmed by STUFF.
Remove any items that are of value to you. If you have a favorite chair, or lamp, remove it from the house. The last thing you want is someone to get attached to something that you aren't prepared to leave.  Take the time to rearrange the furniture. If in the budget, hire a professional to stage your home.
Don't ignore the outside! That is what buyers will see first, and no matter how adorable the inside is, if the curb appeal isn't there, the interest may not be there. Take time to spruce up the planters, weed the garden, trim the bushes and water the lawn. If your yard needs a little color, a quick trip to the garden center for a few inexpensive plants will be worth every penny.
These are just a few suggestions.  Please feel free to contact me to learn more about preparing your home for sale, marketing and other valuable resources we offer at Marin Modern Real Estate. 
Lea Kuehnhackl - Realtor   415.381.9394