Sausalito Art Festival 2014!
Posted by Pam Theroux on Tuesday, August 5, 2014 at 7:16:16 AM
By Pam Theroux / August 5, 2014
Comment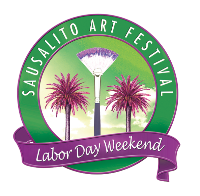 The 62nd Sausalito Art Festival is about to amaze once again on Labor Day Weekend, August 30-September1!
 With a waterfront setting, 260 artists, from around the world showing their paintings, scultptures, jewelry, ceramics, glass, fiber arts, woodwork, photography, mixed media (to name just a few), the Sausalito Art Festival is guaranteed to be a day to enjoy!
Like to dance?Well, there is continuous music on two stages to get you goin'!This yeas lineup includes Taj Majal, Tommy Castro, The Fabulous Thunderbirds and Pride & Joy.There is a full schedule and lineup on the festivals website.
Visit the Wine Garden, the Wine Vineyard, the Premium Wine Bar as you stroll the festival.Ten different wines are featured from our world famous wineries.
Prefer beer? This year a Beer Garden opens and offers Budweiser to Stella Artois beers!Mixed drinks and cocktails will be available at two lounges located along the Bay.
Iced Coffee from Starbucks, Santa Cruz Organic Lemonade, Tejava ice Tea, Coco- Cola soft drinks and sparkling waters are
Hungry?Mouth-watering food awaits you again this year! Crab cakes, gyros, smoked turkey legs, chicken and vegetable wraps, gourmet tacos, salads, fish & chips, Udon noodle dishes, "dogs," ice creamsand many other favorites will tickle your palate!Local nonprofits sell the food specialties and they keep the profits…a win-win for all!
Whether you've been before or never have, this is a great Labor Day Weekend event…don't miss it!For all the details see http://sausalitoartfestival.org/.
Have questions about real estate in Sausalito or any of Marin, Sonoma or Napa towns?I'm always available to assist…just give me a call or send me an email!