San Rafael's West End Neighbors Enjoy Free Shredding & Electonics Recycling Event
Posted by Marin Modern Team on Tuesday, October 21, 2014 at 11:01 AM
By Marin Modern Team / October 21, 2014
Comment
It may not be sexy, but even the most die hard packrat can't help but get excited when the word FREE is put in front of Shredding & Recycling. This past Saturday I sponsored a Free Shredding & Electronics Recycling Event for friends, clients and my West End neighbors at the Marin Modern office in the heart of the West End Neighborhood of San Rafael.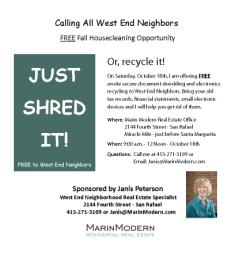 At 9 a.m. people started to arrive by car and on foot with boxes of documents to be shredded along with old computers, phones, CD players...you name it! Ron, with Integrity Shred, let everyone watch their documents, paper clips and binders go through the shredder and Mike from Renew Computers picked up the electronic equipment at the end of the day.
It was a great event and one I plan to repeat thanks to the nice note I received from one of my neighbors who took advantage of this service.
"Thanks so much for the great service you provided for all the West End neighbors over this past weekend. I took advantage of the shred and recycling day and went through all my records and documents that have been sitting in a closet taking up space for years, including old cell phones, radios, etc.
I have lived in this neighborhood for 17 years and have raised my family here. I value the closeness and friendship that the West End neighborhood has provided all these years. We take care of each other!" -- Judy