San Rafael's Downtown Streets Team & Purple Meters!
Posted by Pam Theroux on Thursday, February 2, 2017 at 9:42 AM
By Pam Theroux / February 2, 2017
Comment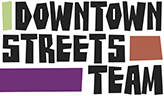 &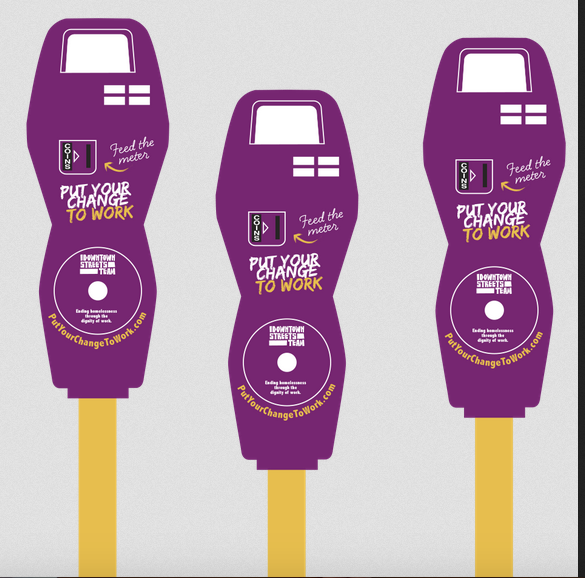 Have you seen the folks in bright yellow shirts sweeping our downtown San Rafael sidewalks? Have you seen the purple meters scattered around downtown San Rafael? The folks in yellow shirts are part of the Downtown Streets Team and the purple meters are part of Put Your Change To Work program, which is a way to discourage panhandling. What? Read on!
The Downtown Streets Team is an organization that believes that by having a job and being able to take care of ones' own basic needs is the center piece to helping folks transition to a better life…and get them off the streets.
The Downtown Streets Team organization has changed lives in at least 6 bay area cities since 2007, and have been doing so in San Rafael, since 2013. Downtown Streets started in Palo Alto as a project of the Palo Alto Business Improvement District.
How does it work? Folks who are homeless or nearly homeless hear about the program from others around town and on the streets. They then have to attend a weekly "success" meeting and if/when there are openings they can be recruited.
Each team member has to show up on time, be accountable to complete the jobs given to them and they have to get along with the other team members. They also check-in with the merchants along the downtown streets to find out what specific clean-up things or concerns they may have.
How are they paid? Team members earn non-cash payments that can help them cover what they need. Each team member is monitored by a local staff person and receives personalized case management services allowing them to be able to move on to more permanent jobs and housing. This is a year-long commitment, by both the staff member and team.
You know the saying, "It takes a village…?" Yup, it takes a village to work on solving homelessness, too. There are local community partnerships as homelessness is a very complex issue, too large for any 1 group or agency to solve. Therefore, there is help from social service agencies, government agencies, and the private sector, including you and me, just average folks in the community. Additionally, education is huge in getting everyone on the same page and getting rid of misconceptions and stereotypes that revolve around homeless folks. To that end, there are speaking engagements in social and church groups as well as in schools.
For more information, go to : www.streetsteam.org
Put Your Change To Work and the purple meters is a program encouraging people to feed the purple meters instead of giving on the street because this helps to deter panhandling, so the next time you see a purple meter, throw in your spare change. The City of San Rafael collects the meter money and gives it to the Downtown Streets Team for furthering their programs.
There are also different meter sponsorships where your business can be a partner in the meter program and be acknowledged right on the purple meter. For more information and details on this program, please go to www.PutYourChangeToWork.org.
Here's a couple great links to YouTube videos all about the program in action and hear from some of the team members:
https://www.youtube.com/watch?v=inpymX61Mjk
https://www.youtube.com/watch?v=XChjCfrLOVE
If you'd like more information on the great things going on in Marin County or what it is like living here, give me a call! Marin is an amazing place to live.