San Rafael Resident with a Lifetime of Stories
Posted by Marin Modern Team on Friday, October 21, 2011 at 8:11:25 AM
By Marin Modern Team / October 21, 2011
2 Comments
If you're looking for a guide to the West End and San Rafael or a personal history of the Great Depression and World War Two, or maybe a unique garden tour, a musical evening, just the right screw for that broken door hinge or perhaps just some fatherly advice, then all roads should lead you to Stan Kosta's home on a quiet cul-de-sac above the Miracle Mile.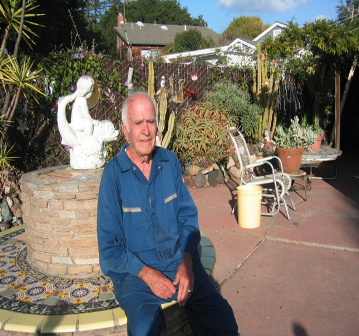 Stan, who turned 93 last year, has lived in his two-bedroom house since he bought it for $10,000 in 1948, bargaining with the builder as its wooden frame was being erected on a hilltop above the Miracle Mile. It had a wonderful panorama of San Rafael and the bay to the East, and Mount Tam, San Anselmo and Bald Mountain - when it really was bald and not covered in greenery - to the West.
Today, as the sun sets, home and garden are illuminated by cascades of light from colored glass embedded in the walls and hung from his windows. Stan never throws anything away and finds a use for everything. His amazing garden is a treasure trove of found objects put to good use. There is the spin-drier weather vane, the telegraph totem pole and the saintly shrine made from a religious statue sheltered in an upturned bath. A small work shed contains a selection of tools, screws and assorted widgets that would put Home Depot (formerly Yard Birds) to shame, its ceiling clustered with glass jars full of parts, nailed by their screw-tops to the roof.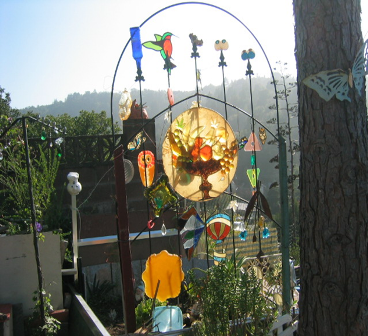 Stan has outlived two wives and has two sons, both in their sixties, and a grandson. His counsel is still sought by kids in the neighborhood he was kind to as they grew up and have now reached middle age themselves. He was born in San Francisco, growing up in the city and then Los Angeles during the Depression. He says he was never broke because he was prepared to take any kind of job from ditch digger to hotel lift operator, newspaper seller and longtime brewery worker. In the war, he was a bugler and radio operator, serving in France, Belgium and Germany, winning the Bronze star for his courage in action.
If you're ever nearby, you might catch the sounds of Stan - reveille being blown on his bugle in the morning, rhythms beaten out on his drum kit during the day or the strains of old familiar songs played on his organ in the evening.  Friendly and fascinating, Stan has a thousand stories to tell of a life fulfilled, a song for every occasion and a warm welcome for anyone who drops by.
Neighborhoods abound with stories like Stan's, rare gems that give our neighborhoods and communities their own unique character and sense of place. If you're looking for a neighborhood to call home in Marin, I can help. I've assisted clients buy and sell homes in every community in Marin and welcome the opportunity to share my knowledge of each community and neighborhood. Feel free to call or email me if you would like a tour of Stan's backyard folk art or would like to talk about Marin real estate.
DRE#01053414
Phone; 415-271-3109
www.marinmodern.com