San Rafael Children's Library: 14 Books to Start 2014 with a Smile
Posted by Marin Modern Team on Wednesday, January 1, 2014 at 9:05:43 AM
By Marin Modern Team / January 1, 2014
Comment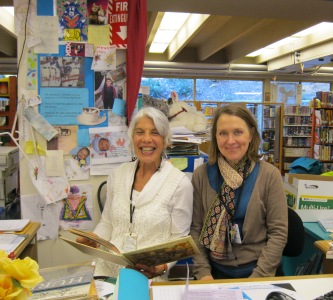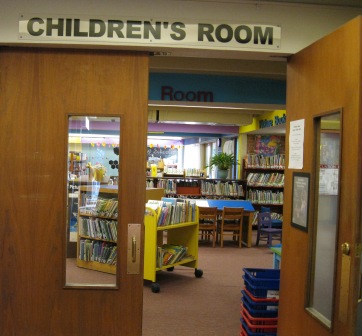 West End neighbor and San Rafael Children's librarian, Hollie Stanaland (left) and her colleague Margaret Stawowy (right) invite you to visit the Children's Room at the San Rafael Public Library. Kick off 2014 with Family Storytime at your favorite Marin Library.  You may be pleasantly surprised to find a welcome respite from the hustle and bustle, where families have fun and thrive.
Hollie's 14 Picture Books for 2014 that even adults will enjoy!
1. Badness for Beginners by Ian Whybrow - After admonishing the wolf cubs to be on their worst behavior, The Big Bad Wolf Family sets off to town.  The wolf parent's bad-behavior lessons backfire quite comically.
2. Betty Bunny Loves Chocolate Cake by Michael Kaplan - After Betty Bunny gets her first taste of chocolate cake, it is all she wants to eat.  She says she loves chocolate cake so much she wants to marry it. "Okay," says older brother, Bill, "but you are going to have some weird looking kids."
3. Bink and Gollie by Kate DiCamillo -Bink and Gollie are unlikely and completely charming best friends.  In this second book in the series, the duo goes to the State Fair. Bink tries and fails to win at Whack-a-Duck, then Gollie is overcome with stage fright in the Talent Show.  Finally, both girls have their fortunes told by Madame Prunely, and realize that having a good friend is the greatest fortune of all. 
4. Carolinda Clatter by Mordicai Gerstein - This charming tale of a sleeping giant's unrequited love for the moon, a town that is too quiet, and the irrepressible Carolinda Clatter,  who makes everything better with her  boisterously loud voice and her songs.  Carolinda Clatter is perfect antidote for cold winter nights.
5. The Day I Swapped My Dad for Two Goldfish by Neil Gaiman - Best known for his books for adults, as well as his Newbery Award winning, The Graveyard Book, this was Gaiman's first book for young readers.  Nathan wanted his best friend's two goldfish so much that he swapped his father for them. When his mother came home and found out what he'd done a hilarious adventure ensues.
6. Doodle Flute by Daniel Pinkwater - Pinkwater, the master of co-mingling the absurd with the profound, is in top form with this story.  Kevin Spoon has everything from purebred guppies to pizza every day. Mason Minz wears cheap sneakers and a plaid hat. But Mason Minz has the very last doodle flute, and Kevin Spoon wants it. Mason will not sell, trade or give Kevin the doodle flute. The dilemmas denouement is sublime sagacity.
7. Goldilocks and the Three Dinosaurs by Mo Willems - Willems is one of the funniest picture book  author/illustrators writing today.  This is his first retelling of a classic tale which he pulls off spectacularly, as we meet  Papa Dinosaur, Mama Dinosaur . . . and a Dinosaur who happened to be visiting from Norway.  They arrange their house just so, "I sure hope no innocent little succulent child happens by our unlocked home." They are "definitely not hiding in the woods," or spying as "a poorly supervised little girl named Goldilocks came traipsing along." Goldilocks wises up just in time to save herself.
8. Great White Man-Eating Shark: a cautionary tale by Margaret Mahy - Norvin uses his resemblance to a shark to frighten away the other swimmers and get the beach for himself.  It's a good plan until he attracts the romantic attention of a female shark in this Jaws meets the Boy who cried wolf tale.
9. Heart of a Tiger by Marsha Diane Arnold - As naming day approaches, the runt of a litter of house cats fears his name will be "Smallest of All," He would truly like to be a tiger, and  sets off in search of Tiger to learn how to be one, only to be ridiculed by birds, monkeys, and finally Tiger. But he is undeterred and after saving the Tiger's life, earns the Tiger's respect, and a noble name for himself.
10. Little Pig is Capable
by Denis Roche - Little Pig's parents are the proverbial helicopter parents, "Sweetie buns, please wear this scarf. If you don't, you'll catch a cold, or worse you'll get so sick that you'll miss second, third, AND fourth grades." But it is Little Pig's excellent common sense that saves the day, and his pig scout troop on a camping trip.
11. My Side of the Car by Jules and Kate Feiffer - Denial and wish fulfillment have never been as fun as in this picture book illustrated by Jules Feiffer and written by his daughter Kate. Based on a Feiffer family story,   mishap after mishap has prevented Sadie from going to the zoo. When she and her father once again set out for the zoo, it starts raining. Sadie insists it's not raining on her side of the car, in fact, people are having picnics, watering their lawns, and wearing sunglasses. Sadie's imaginative determination and her father's patient indulgence are both humorous and heartwarming.
12. Olivia and the Fairy Princesses by Ian Falconer - Alas, Olivia is so over her sparkling, pink, fairy princess stage. She is ready for a new wardrobe and a career move from princess to...? You will cheer her career choice as you laugh at her wardrobe choices. Picture, if you can, Olivia in matador pants, and a Martha Graham tube dress.
13. This Rabbit Belongs to Emily Brown by Cressida Cowell - Queen Gloriana wants Emily's beloved stuffed rabbit, and is willing to pay handsomely for it. Emily 's repeated response to the queen is, "`This rabbit is NOT for sale. And his name isn't Bunnywunny. It's STANLEY." Finally, the queen sends commandos to kidnap Stanley. Of course, Emily rescues Stanley, and takes pity on the queen giving her the secret.
14. Witch's Children by Ursula Jones - When the witch's children go to the park, the pigeons and squirrels all know things will quickly go awry. And so they do as the witch's children try to save Gemma's toy boat by turning Gemma, the Ice Cream Lady, the pigeons and the squirrels into fairy tale characters. The youngest of the witch's children saves the day with the most magical word of all (clue: it is not please, thank you or abracadabera).
If you plan to buy or sell a home in 2014, a thriving public library in your community can be a real asset to young families and older adults.  
 Janis Peterson, Realtor, 415-271-3109 or [email protected]