San Francisco Neighborhoods - Cow Hollow + Marina District Part 3: The Blue Angels
Posted by Cari Gennarelli on Wednesday, October 26, 2011 at 8:41:10 PM
By Cari Gennarelli / October 26, 2011
Comment
San Francisco Neighborhoods - Cow Hollow + Marina District Part 3: The Blue Angels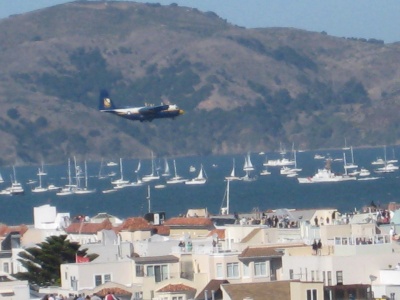 Fleet week, which starts on Wednesday and culminates with the exit of the Navy ships on the following Tuesday, reminded me of just another benefit to living in The Cow Hollow & Marina districts or in San Francisco Real Estate terms, District 7.
Fleet week brings back memories from my high school days bussing tables at a popular tourist restaurant on Fisherman's Wharf. That experience soured Fleet week for me because it meant the streets and restaurants on the wharf were literally filled with drunken sailors. A little much for a shy high school girl.
Living in Cow Hollow you cannot escape Fleet Week and the Blue Angels so when I moved into the neighborhood in 1993 I developed the attitude of, "If you can't beat em join em" and it has really worked out well.
I have had some of the best times on my Cow Hollow rooftop, with friends, enjoying the sunshine and the Blue Angles air show.
The excitement starts on Wednesday as the aircraft carrier stealthily glides into the bay and by Thursday afternoon the Angels start practicing. Exciting to watch but the weekday Angels are not appreciated by students or those of us who work from home.
There are many events that occur over the seven days including the Parade of Ships on Saturday, Marine Band Concerts and even an Interagency Softball Game.  However, to me it's all about the Air Show, and maybe posing with a few of our service men and women.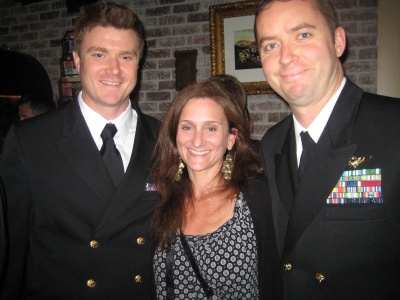 Witnessing the Blue Angels air show from a Cow Hollow rooftop is an exhilarating experience year after year. Our building sits just above Lombard Street, which makes for a perfect perch to enjoy the show. We look out over all the roofs in the Marina and this year they were packed with ready on lookers.
My favorite part is watching the joy of my guests when that first plane flies over our heads and they realize what a prime spot they have to witness the spectacular show.
This year the weather cooperated, fog cleared just in time for the pre-show, we had a great spread of salads, lunch meats and even a homemade Fruit crisp.
Fleet week is always early October (next year October 8-12, 2012). If you have never experienced the show, it's a must. Planning a trip to the San Francisco Bay Area October 2012? Weather is historically excellent for San Francisco so grab a rooftop or head to Crissy Field and partake in the festivities. If we meet, maybe you can be my guest. I will save you a seat!