San Anselmo Treasure- Robson Harrington Park
Posted by Fred Anlyan on Thursday, March 20, 2014 at 11:43:38 AM
By Fred Anlyan / March 20, 2014
Comment
Hidden in plain sight, just a couple of blocks from downtown San Anselmo lies Robson-Harrington Park. This jewel of a community park has an interesting history. Originally the home of Edwin K. Wood and his wife Marian, the main house was completed in 1906 with funds from Wood's successful business ventures in lumber and shipping. Woods and his wife lived there and were active members of the San Anselmo community until he died in 1917 at the age of 77. Marian passed away in 1922, and in 1923 the family sold the estate to Kernan and Geraldine Robson for $18,500. The Robsons expanded the original house and added the brick and stone walls that surround the estate, using brick from the rubble of the San Francisco earthquake. Robson died in 1956 and his widow continued to live there until her death in 1967 when the estate was bequeathed to the Town of San Anselmo with the stipulation that it be called Robson-Harrington Park in honor of Robson's father and mother.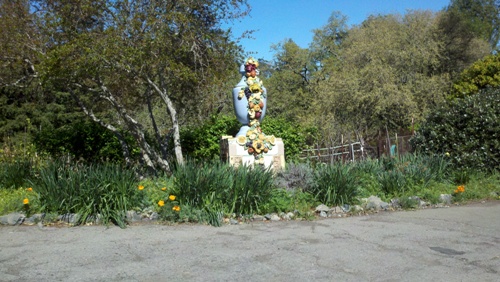 Today, the Park is maintained and operated by the Town of San Anselmo. The approximately 2.7 acre estate consists of a main house that has space available for events as well as a picnic area that is available for rental (call 415-258-4640), and a large, grassy field with plenty of sun. In addition, there is a community garden with about 30 individual plots that are rented to individuals (call 415-258-4601)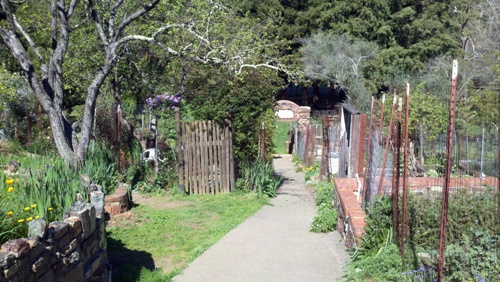 A great place to walk, sit, lounge, linger, read, sunbathe,bring the kids and the dogs (must be on leash though!), have a picnic or a birthday party! You may even want to get on the waiting list for a garden plot of your own--- preference is given to residents of San Anselmo.