San Anselmo Restaurant (R)Evolution!
Posted by Fred Anlyan on Tuesday, March 31, 2015 at 10:53:37 PM
By Fred Anlyan / March 31, 2015
Comment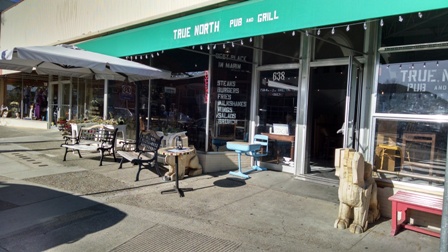 I used to love LoCoco's Pizza in downtown San Anselmo, went there for years, and enjoyed talking to Mr. LoCoco on every visit. I ate breakfast at Bubba's and celebrated special occasions at Cucina. But nothing lasts forever and the only thing that is guaranteed is change. LoCoco's was sold several years ago, and the new owners struggled. Even though the food was  excellent, they couldn't make a go of it. Enter Buck Minitch, a young man with a lot of energy, a passion for the restaurant business, a commitment to San Anselmo, and an attitude of flexibility. Buck tried a number of different formats, menus,  and business models, keeping what worked and changing what didn't. Gradually, folks started coming back to the restaurant, which now operates as True North Pub and Grill, offers craft beer, live music, and late hours. So when Bubba's and Cucina ran into trouble, Buck already had some experience with what kinds of restaurant business models worked in San Anselmo.
In a recent conversation with Buck, over breakfast at Hilda's Coffee Shop (directly across from the former Bubbas; try it, it's great!) he explained his goals, his background, and his  business philosophy. Buck was looking for a place to settle with his family when he came upon San Anselmo. While helping the owners of Flour Craft design and build their space right next to what is now his True North Pub and Grill, he noticed that a number of the town's businesses were foundering. With rising rents and customer resistance to price increases, restaurants were increasingly challenged to come up with a positive number on the bottom line and there seemed to be less and less of the downtown foot traffic needed to generate a healthy business climate.  Buck wanted to apply his skills to help the town and its merchants create a more business-friendly atmosphere with more options to draw diners and shoppers to the downtown business district. After spending 8 years in the Marine Corps and 4 years as a Firefighter, Buck describes his business style as running towards (not away from) trouble. His dual intention is to preserve businesses and present options for customers. He has a lot of ideas that he wants to implement on a relatively short timeline and they include:
1. A new lease on life for the space formerly occupied by Bubbas
2. Really exciting plans for Cucina
3. A Revival for Bar Chocolat
4. A Ramen Noodle shop in the sliver of space next to Bubba's
5. A health shake shop, with juices, smoothies, etc.
Stay tuned for more about these exciting developments in upcoming (soon, I promise) blog posts
Meanwhile, if you need help buying or selling a home in San Anselmo or elsewhere in Marin, call me:
Fred Anlyan
415-847-0602
BRE# 01336593