San Anselmo Restaurant (R)Evolution! (cont'd)
Posted by Fred Anlyan on Friday, April 17, 2015 at 10:42:07 AM
By Fred Anlyan / April 17, 2015
Comment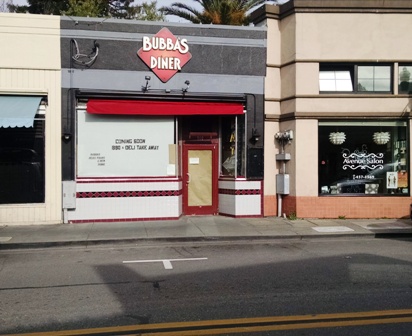 In our most recent post, we reported on the transformation of Lo Coco's  Pizza into True North Pub and Grill, and the evolving vision of the new owner, Buck Minitch in his quest to carve out a niche for himself and provide exciting, interesting, and affordable food options in San Anselmo. Buck has plans for several more restaurants as he aims to attract more diners and shoppers to the heart of town and help to promote and preserve the vitality of the business district.
I spoke with Buck recently at his current project, the former Bubbas Diner, which will reopen in the next week or so as Crossroads Barbeque and Deli, a takeout food venue featuring, of course, barbeque, plus sandwiches, snacks, drinks, fruit, juices, and more. Current plans call for split hours, perhaps 11-3 and 5-7, but like Bucks earlier project at True North, we would expect Crossroads to unfold and evolve, with what works being enhanced and what doesn't being eliminated. Keep an eye on this spot, which will feature local artwork along with the food, and is bound to be a tasty addition to the local food scene. Check it out!
Future plans include a ramen noodle shop in the space next to Crossroads, the resurrection of Bar Chocolat, and exciting changes at Cucina, which has been under Buck's management for several months now. There may also be a health shake bar, in a location to be decided, with wheatgrass shots, juices, and more. A Grand Opening is planned for everything when the projects are complete, perhaps by late spring or early summer.
Watch this space for more exciting developments on the Downtown San Anselmo food scene!
And if you need help buying or selling real estate in Marin, give Fred a call!
Fred Anlyan
BRE#01336593
Broker Associate 
Marin Modern Real Estate
415-847-0602