San Anselmo Downtown Welcomes Amphora Nueva!
Posted by Fred Anlyan on Tuesday, July 28, 2015 at 10:26:06 PM
By Fred Anlyan / July 28, 2015
Comment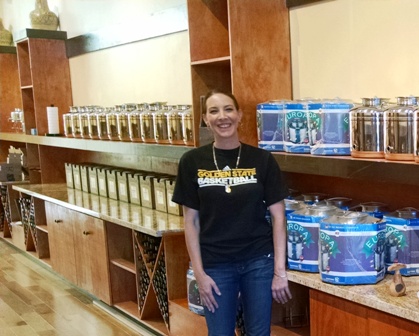 My daily walks usually take me through Downtown San Anselmo at some point along the way. And for a while now, there have been obvious signs of construction at 429 San Anselmo Ave., just next door to Ludwigs Fine Wine and Spirits. But with the windows covered, it has been difficult to divine what was being brought to life---- until about a week ago.  The door was open; there were shelves, containers, counters, and workmen putting on finishing touches under the direction of a young woman, Claire Bradley, who is one of the owners. (That's Claire in the picture, taking a short break to talk with me about her new store, Amphora Nueva). Amphora Nueva is the third Bay Area location for the Bradley family's gourmet emporium featuring premium (bulk and bottled) olive oil and balsamic vinegar. I could not find a website for the new location, but the Berkeley and Lafayette locations can be found at:
http://amphoranueva.com/store/
Check it out for information on their procucts and their history. KQED's Bay Area Bites blog featured Amphora in a recent posting that describes the business and its products. Here's the link, which is well worth a read---- and the store, which is set to open soon, is definitely worth a visit! Good luck to Claire and the rest of the Bradley family. Be sure to visit them the next time you buy olive oil or vinegar.
And when you need to buy or sell real estate, call me:
Fred Anlyan
Marin Modern Real Estate
415-847-0602
BRE#01336593