San Anselmo Bakery and Cafe, MH Bread & Butter
Posted by Fred Anlyan on Thursday, March 24, 2016 at 12:08:34 PM
By Fred Anlyan / March 24, 2016
Comment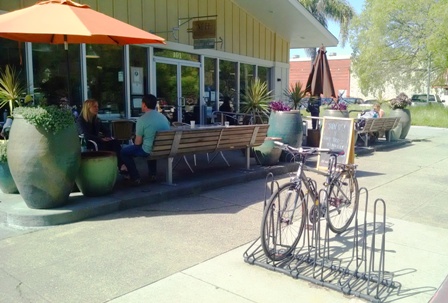 Near my home in San Anselmo, at 101 San Anselmo Avenue, is the burgeoning success story of MH Bread & Butter, the dream child of owner Nathan Yanko and his wife Devon. Formerly a master baker at the famed Tartine Bakery in San Francisco, Nathan wanted to open a cafe that would feature fresh, healthy food at reasonable prices. The inspiration (and ultimately, the name!)  came from his great, great grandfather, Maximillian Hirtreiter, a German immigrant who settled in New York City, opened the famous MJ Hirtreiter Patisserie, and later married and raised a large family with his childhood sweetheart, who came to New York to meet him after he became established.
Nathan and Devon, well-known local long distance runners, realized their dream in the spring of 2013 after putting together a successful crowd-funding campaign on Kickstarter, that raised over $30,000 towards the start-up costs.
Popularity of the Cafe continues to grow, with contented customers taking advantage of the Al Fresco streetside tables, dining on delicious food under brightly-colored umbrellas. Lines are not unusual on the weekends, but the wait is often under 20 minutes. As you might suspect from the name, the bread is the centerpiece here, baked fresh daily from sourdough starter and organic ingredients. The menu also features sandwiches, soups, salads, breakfast items, and more, including cakes, tarts, quiches, croissants, which are all available to take out. The bread has become so popular that it is now available at a number of markets (including Whole Foods) from Santa Rosa to Mill Valley, and featured at San Anselmo's newly-re-opened Cucina, as well as other popular restaurants in the area   
Head Chef, Arielle Giusto, has returned to the helm of the kitchen, sharing her expertise and love of good food.
Check out this place on your next visit to San Anselmo!
And when you need help buying or selling real estate in Marin County, Please Call me; I'll look forward to talking with you!
Marin Modern Real Estate