Pumpkin Patch Front Yard Marin Style
Posted by Pam Theroux on Wednesday, October 17, 2012 at 8:27:23 PM
By Pam Theroux / October 17, 2012
Comment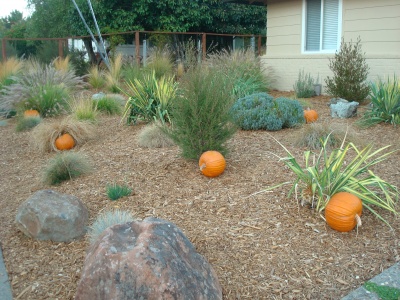 This is so easy and fun to do!  You will love it every time you drive up to your house!!
Put 12 or more pumpkins (gourds and squashes too) around under bushes and strewn around the yard.  Turn some upside down, some sideways, etc.  It's great to use different shapes, sizes and colors!  You don't have to spend a fortune either....pumpkins start going on sale at some of the groceries mid-October. I found mine as low as $3.99 each for nice sized ones at TJ's this year.  Pumpkin patches will obviously have the most interesting and unique choices, but definitely at a price when you need/want so many (I have 15 in my yard).
You could also put some individual solar lights (like the kind you get for $2 each at your local home center store) near all or some of the pumpkins to make them shine at night.  While you are at it, throw some bales of hay around or by the front door....way cute! These bales make great places to sit and visit with your friends and neighbors, while sipping some hot cider (or...) and watch the kids play at the same time.  Today, while we sat outside, two of the neighborhood kids were sitting on a driveway making individualized black and orange Halloween cards for each family and then taking them to each home....'tis the spirit!
Then when Halloween is over, hang on to those pumpkins, squashes and gourds as I have another great outdoor decorating idea to will share with you... so come on back and visit my blog after Halloween!! 
Marin Modern Real Estate