PROPAGANDA EMERYVILLE
Posted by Marin Modern Team on Wednesday, March 23, 2016 at 12:27:28 AM
By Marin Modern Team / March 23, 2016
Comment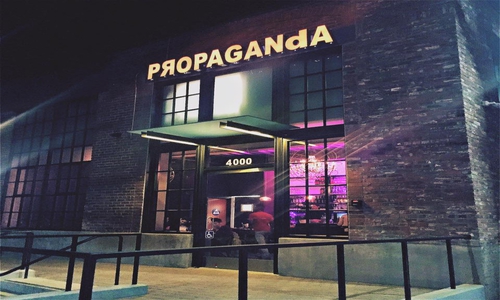 Ok, if you want to see me, come visit my new office at Propaganda in Emeryville, 4000 Adeline at 40th.My neighborhood is exploding right now…not only are there more cool loft listings (Green City Lofts, Emeryville Warehouse Lofts at 1500 Park, Bessler building at 4053 Harlan St. Emeryville and Pacific Cannery Lofts in West Oakland (just a few blocks west) than ever before, but there are some new modern rental buildings as well, driving a great new group of people and an excellent smart vibe to our city.While visiting the bar today, I met a woman who works as a bartender for AmTrak (depot just a few blocks away on Horton in Emeryville) and was writing a book about it, a guy from Honolulu who ordered the special 3 tacos for $5… and I must say, the friendliest bartenders, servers I've met at any bar/pub in years.
I've followed the renovation of this cool brick and timber warehouse at the corner of 40th and Adeline…I secretly hoped it would be a loft warehouse conversion but it's turned out to owned by City Storage of San Francisco. …but just on the corner of the building I noticed a sign for PROPOGANDA with a cool contemporary but comfy looking interior.Had to check it out…
If you're looking for a really cool place to tone down into early evening  …look no further than Propaganda…just opened last month…the owner/bartenders are so inviting and welcoming.  I was treated to several awesome Mescal fresh fruit infused margarita's that were out of this world! And the menu, with meatball skewers, pulled pork sliders and brussel sprout chips at no more than $12 each, was the perfect way to segue into evening. It's close to everything…minutes from Temescal and 4th St Berkeley where good cafés have gotten so crowded.But don't tell anyone…
If this sounds like PROPAGANDA it really isn't...I'm passionate about my Emeryville neighborhood only 2 blocks from the fabulous PIXAR studios and much more.  If you're looking to invest/live in one of the most innovative areas of the East Bay, W.Oakland/Emeryville, the closest BART stop and first Bay Bridge entrance to the City , call me at 510-350-8575 and I'll help you get into the market now before everyone finds out about it.