Pricing and Preparing Your Marin Home for Sale
Posted by Marin Modern Team on Monday, April 22, 2013 at 4:55 PM
By Marin Modern Team / April 22, 2013
Comment
Determining the list price for your home is as much of an art as a science. There is no exact formula, simply a range within which the sale price of your house will fall.  At any given time there are four factors that affect the sale of your home:
 Location is the single most important factor in determining the value of your home. It's true, location, location, location. Sought after school district, view home, walkability to a town, proximity to parks, shopping and freeway acess, etc. 
 Condition of the property affects the price and speed of the sale. Prospective buyers often make purchases based on emotion, so first impressions do count. Optimizing the appearance of your home will maximize the buyer's perception of value.
 Competition - Prospective buyers compare your property against competing properties and properties that have sold recently in the area.
Timing - Supply and Demand, current interest rates and the availability of mortgage money affect property values. Prices rise when there are more buyers than sellers; they decline when there are more homes for sale than buyers. Today in Marin, the shortage of inventory coupled with low interest rates and strong buyer demand is fueling a dramatic jump in home prices.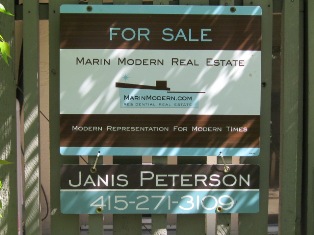 One way to arrive at a realistic list price is to ask a real estate agent to provide you with a Comparative Market Analysis (CMA) of your home to see how it compares to other homes that are currently on the market or have recently sold in your area.   This information will give you a look at current sales activity including which houses are competing for the same buyers you are, what houses have sold and which ones are sitting on the market.  Armed with this information, visit open houses to personally check out your competition and see how your home stacks up and what you will need to do to outshine the competition.
You may not be able to change the location or have control over the competition or timing of when you sell your home but you do have control over the condition of your home.  If you prepare and price your house to outshine the competition your home will sell at the very top of your price range.  Even better, you might be able to push that range a little bit higher by providing buyers with the very best.  Buyers won't overpay, but they will pay a premium for the best on market. The responsibility for getting top dollar ultimately rests with how you price and prepare your home.  A professional, full-time experienced realtor is your most valuable asset when getting your home ready to sell and determining how to prepare and  price it. 
If you are thinking of selling your home and would like to know the market value and what you need to do to get it ready, give me a call or email me.  I'd be happy to provide you with a Free, no obligation Comparative Market Analysis (CMA).  I welcome the opportunity to answer any questions and to be your real estate resource.
Janis Peterson, Realtor, 415-271-3109 or [email protected]