Preparing your home for sale: 10 tips to make your home show well & maximize profit!
Posted by Hilary Davis on Thursday, March 29, 2012 at 4:17:12 PM
By Hilary Davis / March 29, 2012
Comment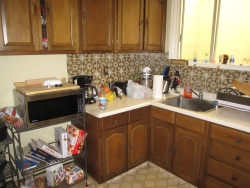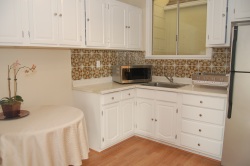 Before: Kitchen looks dirty & dated.                  After: Kitchen looks clean & fresh.
As a realtor, I have helped many homeowners prepare their home for sale. Every property is unique, but these basic guidelines and tips will help make your property shine. 
Homes that look good and are priced right sell fast and for the most money!
Tip #1: De-clutter entire property. That includes the yard, the closets the garage and most importantly the whole interior of the house. Less is more!
Tip #2: Clean the entire property. That means the yard needs to looks fantastic and neat and the interior is squeaky clean. Most buyers can't get past a mess to see "good bones". Alittle landscaping goes a long way too.
Tip #3:  Paint.  Paint is the least expensive way to make a fresh, clean and bold change. If it looks like it needs paint, it does-paint it. Choose neutral colors and keep the sheen factor down.  Try to use no/low VOC paints as many buyers are asking for this.
Tip #4: Flooring.  If the carpet looks or smells bad, clean or replace it. If the wood floors look old and beat up, refinish them. Whatever the flooring is, make it as clean as possible.
Tip#5: Repair. Repair anything that is broken. That means fix broken windows, mirrors, closet doors, leaky faucets, light fixtures and the front door.  One of my pet peeves is a hard to open or lock front door.  The front door is where buyers are making all kinds of assumptions-please make it easy for the realtor to open and show off your beautiful home.
Tip # 6:  Bright, light & airy.Remove old curtains. Clean all the windows. Put new bright bulbs in every light fixture and let some fresh air in. Try to leave some lights on at all times.
Tip #7: Rearrange and stage.  After completing steps 1-6, your home is looking pretty good. Sometimes just rearranging your furniture so it flows well for showing is all you need to do, but most often some professional staging is needed. As a free service to my clients, I provide minimal staging that really makes a big difference.  I have access to stagers for hire if necessary. Staging makes a huge impact and should not be over looked.
Tip #8: Scent. No scent is preferable. Artificial (plug in) scent makers are a real turn off.  It is best to eliminate whatever offensive scent is in the home. Please make sure the home never smells of smoke, pets, food, garbage etc.  How your how smells is equally important to how it looks.
Tip #9:  Pre-sale inspections.  A few upfront inspections will let you and the buyers know more about the property.  This helps in acurate pricing and realistic negotiating.  I can help you decide which ones to get.
Tip #10:  Leave. Buyers feel uncomfortable viewing a home while the owners are present. It is best to give the buyers some space and let them see if the house "speaks to them". I suggest not being present while your home is shown.
Selling your home can be a big project. I can simplify it.  I love to help my seller clients strategically position themselves for success.  With thoughtful presale planning, complimentary staging and modern marketing techniques, I help my clients  sell their homes quickly and for the most money. Call me today for a free in-depth analysis of your properties worth and "how to" prepare guide for sale.  Hilary Davis, REALTOR 415-235-3133 [email protected]
Before: Old wall paper & rugs.             After: fresh paint and refinished hardwood floors.