People in Glass Houses: A movie about Eichler Homes debuts tonight in San Rafael, CA 94903
Posted by Hilary Davis on Friday, September 21, 2012 at 1:28:43 PM
By Hilary Davis / September 21, 2012
1 Comment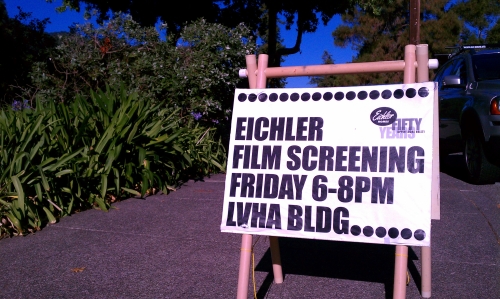 Eichler movie: People in Glass Houses: The Legacy of Joseph Eichler, debuts tonight (9/21/12) in Lucas Valley (San Rafael) at the Lucas Valley Home owners Association on the corner of Mount Shasta and Idylberry Road. It is free and goes from 6pm -8pm.  Creator, Monique Lombardelli is scheduled to be there to answer questions.
I am excited to view this 45 minute documentary on the 50 years of Joseph Eichler. It is my understanding it's the first of its kind. This is the perfect opportunity for Eichler lovers, as well as those who don't quite understand the mystique of these architectural icons, to learn more about what inspired Joseph Eichler and how he turned an idea into a successful development that has stood the test of time.
I currently live in and Eichler, and as a realtor I have been in many of them, however I am always amazed at how different they all are 50 years later. Over the years homeowners have done all kinds of changes to the original floor plan and design concept-some have added 2nd stories, some have wall papered over the mahogany paneling, some have removed walls and added walls but every now and then there is a pristine well-kept  original! Mine has been changed and added onto over the years but as a lover of the outdoors I still adore the 10 foot walls of glass and the beautiful indoor/outdoor integration even if it is a bit off from origanal.
As an active agent at Marin Modern Real Estate in San Rafael, I have had the pleasure of assisting many buyers with obtaining their dream home-an Eichler!   Marin Modern continues to be a top producer in the sales of Eichler's around the bay area (check out www.MarinModern.com, www.EastBayModern.com & www.SanFranciscoModern.com). As inventory is low I am excited about 3 new Marin Modern Eichler listings: an upgraded 3 bedroom/2 bath in Lower Lucas Valley and 2 more that have not hit the market yet but I can give you information if you contact me.
I hope to see you at the premiere tonight and look forward to meeting the producer and learning more about these fantastic works of art!
Hilary Davis, Realtor 415-235-3133 [email protected]