Oakland's First Fridays Block Party May 5th, 2016
Posted by Marin Modern Team on Monday, May 2, 2016 at 10:14:03 AM
By Marin Modern Team / May 2, 2016
Comment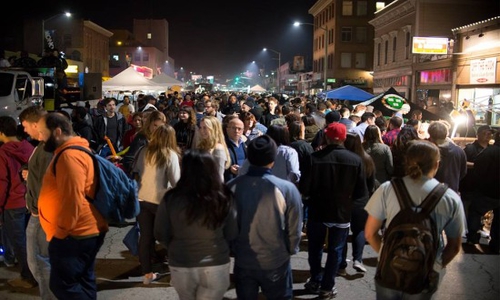 I love May! Not only does the weather start getting beautiful again, but it happens to by my birthday month, so I'm partial. I can see no better way to celebrate than to go down to the Oakland's Frist Friday Block Party at Telegraph/West Grand and 27th, the fabulous up and coming KONO district of Oakland.
What started in 2006 as an art walk through a few local Galleries has emerged as one of the best free festivals in the Bay Area.Thousands of people from all over rhe area and beyond come out to enjoy not only art galleries, but street art, culinary artisans, dancers, DJ's, performers, musicians and even local poets.
This event has been such a mainstay in our town, sometimes we take it for granted. While driving some new buyers from San Francisco to showings through the area on Saturday, I was reminded when they commented that they needed to check out First Fridays.Yes you do everyone thinking of moving to the East Bay! Comeexperience art, be inspired, eat great food, enjoy live music, and stroll through ouramazing, eclectic city of Oakland.
First Friday Event May 5th from 5-9:30pm at KONO (Koreatown and Northgate) Telegraph Avenue from West Grand to 27th Street. See you there!