Oakland: There is a there, here!
Posted by Marin Modern Team on Saturday, January 11, 2014 at 1:50:45 PM
By Marin Modern Team / January 11, 2014
Comment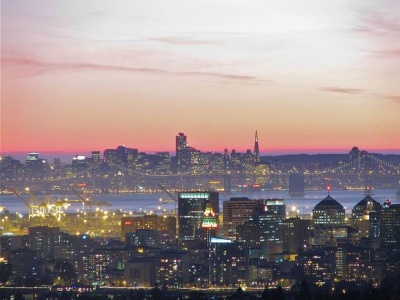 Since Gertrude Stein once stated, "there is no there, there", her native city has come a long way!  Now people are calling Oakland Northern California's answer to Brooklyn as we are seeing a mass exodus of artists, chefs, entrepreneurs and even overflow of techies from San Francisco, attracted by the affordable housing and commercial space prices.  Just last year, as the median home price for San Francisco climbed toward $1,000,000 up 30% from the year before, Oakland's median home price is $425,000, up 26% from 2012.  Oakland now boasts the most artists per capita outside of New York; foodies are attracted to all of the new exciting restaurants being opened by chefs from San Francisco or Berkeley chef graduates of Chez Panisse, finding lower rental space here.
Oakland, aka, the "Sunny Side of the Bay," due to its average 260 days of sunshine, in contrast to San Francisco's nearly constant fog embankment, has come up on the radar for fun outdoor art and food events.  Recently, attended the 2nd annual Eat Real Food festival held at Jack London Square and was delighted by all of the local vendors offering everything from goat cheese, coffee, baked goods, to short classes on how to select good salami, watching local butchers compete or the large assortment of local food trucks from which to dine. Toyota was even giving away a 2013 Highlander!
Oakland's First Fridays offer inspiring evenings full of great art, food, music, comedy, interactive art, including collaborative mural painting "LIVE" painting, on Telegraph between West Grand and 27th, with nearby art collectives and galleries on 23rd, 25th, and 26th- Oakland in the Uptown neighborhood, also the home of many new hot bars and restaurants.
Coming up soon is the 4th Annual Oakland Restaurant Week, January 17-26th.  There are over 50 restaurants (12 in our East Bay Modern office location area of Jack London Square) offering special prix fixe dinners for this exciting event.  If you haven't had a chance to discover the many diverse neighborhoods and cuisine offered around Oakland, this would be an excellent time to do so.