New! K9 Scrub Club in Fairfax
Posted by Marin Modern Team on Wednesday, April 30, 2014 at 7:24:34 AM
By Marin Modern Team / April 30, 2014
Comment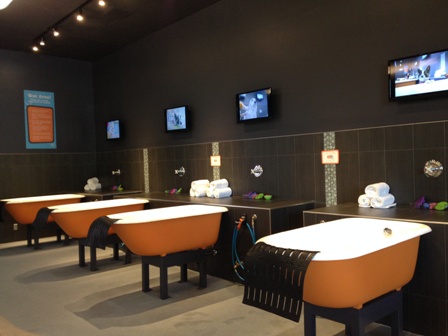 Wow, it's a plush new Spa for dogs.  Who could be more deserving than our furry friends whose owners are the second largest constituency in Marin County according to a recent article. The owners of K9 Scrub Club have thought of everything and seized a great business opportunity.  What happened to hip and funky Fairfax?  It's gone upscale.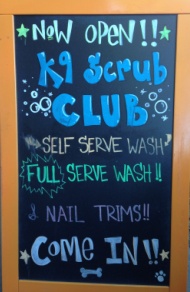 Here's the perfect day in Fairfax. Drop Buddy off at the Spa for an Oatmeal facial and Gentle Berry shampoo, while you go across the street to shop at Good Earth.  When you pick up Buddy, don't forget to stop by the K9 Scrub Club Bakery for gourmet treats before you and Buddy go next door to one of the outdoor tables at the Iron Springs Pub where you can order a specialty brew and Buddy can show off.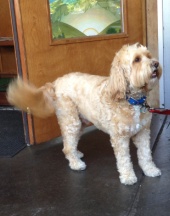 Also located in Noe Valley in San Francisco, this is "Not Your Average Neighborhood Dog Wash" according to K9 Scrub Club. I wholeheartedly agree.  They offer all natural shampoo from Coconut and Plum to Dirty Dog High Concentrate, a free face scrub, unlimited towels and treats and a TV-like screen above each tub with a picture of a fellow K9. Although it looks Zen-like, I presume that changes when all the pampered pooches show up for their bath.
Welcome to Fairfax, K9 Scrub Club!  May your business flourish and grow.  Stop by and check it out and pick up a menu of services.  Or better yet, drop your Pooch off for a day at the Spa and let's go househunting together!
Janis Peterson, Realtor, Janis@MarinModern.com or 415-271-3109