Moviemaker George Lucas Transforms San Anselmo's Miracle Mile and Amazing Grace Music store
Posted by Marin Modern Team on Saturday, March 24, 2012 at 10:47:24 PM
By Marin Modern Team / March 24, 2012
1 Comment
Thank you George Lucas for your community spirit and generosity!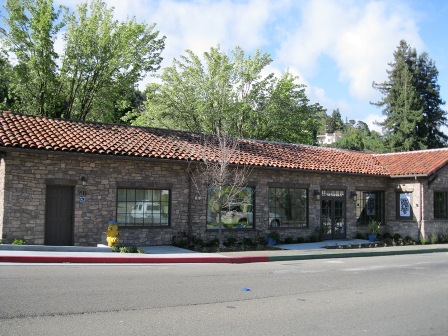 For everyone who travels the Miracle Mile every day, you can't help but admire the handsome stone building across from United Market, now home to Amazing Grace Music.  George Lucas, who lives nearby, rescued Amazing Grace from their dilapidated 1936 building, purchased the property, and set in motion a major renovation of the median that separates east and west traffic on the Miracle Mile.  Not only did he build a new home for Amazing Grace Music, he moved it further down on the median and completely landscaped the area using a local landscape architect, Blasen Landscape Design.
The Miracle Mile is a main thoroughfare for the residents of San Rafael, San Anselmo, Fairfax and West Marin.  It starts at the West End Village of San Rafael where 3rd and 4th Streets converge and ends in San Anselmo at the intersection by United Market and where the Amazing Grace Music Building is located.   From 1902 to the 1940's North Pacific Coast Railroad had tracks on the swath of land that now divides East and West traffic on the Miracle Mile connecting San Anselmo to the Sausalito Ferry.  The purchase and renewal of this piece of property by George Lucas is significant to the residents of Marin who travel the Miracle Mile each day.  We sit in traffic at a major intersection where the Amazing Grace Building was in total disrepair and the landscaping was non-existent.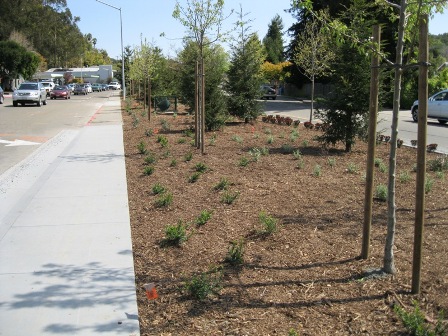 Yesterday when I stopped to admire the beautiful new landscaping, Lew Summer, who supervised the installation for Frank & Grossman Landscape Company, gave me a tour of the drought tolerant plants.  Flowering Pear Trees will bloom in the spring, Ceanothus will spread and blanket the area with blue flowers and Euphorbia - Red Martin, a new one for me, will add texture with red foliage. I expect it will look as beautiful as the landscaped medians in Greenbrae along Sir Francis Drake.
I'm sure Mr. Lucas gets asked all the time to contribute to the many fund raisers and non-profits in Marin .  We're lucky that he cares about the community where he lives and contributes enormously to Marin's economic vitality. If you need one more reason to move to Marin, George Lucas is it!
Janis  Peterson, Realtor, 415-271-3109 or Janis@MarinModern.com