Mountain Biking & Mt. Tamalpais
Posted by Pam Theroux on Monday, April 3, 2017 at 10:28 AM
By Pam Theroux / April 3, 2017
Comment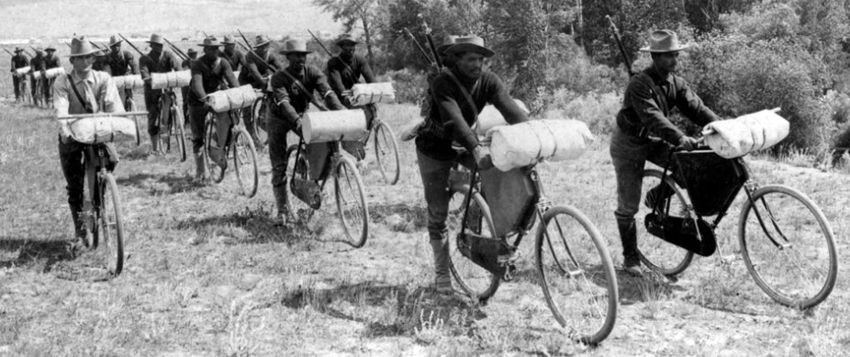 Mt. Tam (Mount Tamalpais) in Marin County is considered by many to be the birthplace of modern day mountain biking, but the truth is that some form of mountain biking has been around for almost a century.
The word "infantry" refers to the division of the army that enters fighting/combat on foot and In the 1800's there was an army division called the 25th Infantry Bicycle Corp whose job it was to put together bikes that could carry their gear over rough ground and terrain. In August of 1896 a group of riders from this infantry rode from Missoula, Montanat to Yellowstone National Park…and then back. Their goal was to test a new bicycle to see if the military could use it for traveling mountainous areas. This test went so well that the next year they rode from Missoula, Montana to St. Louis, Missouri!
From 1951-1956 a group known as the Velo Cross Club Parisien from outside of Paris that rode a bike known as a French 650-B bike that they made some adaptations to.
In 1953, an American, John Finley Scott, took a Schwinn World Diamond frame and added flat handlebars, big balloon tires and derailleur gears and called it a "Woodsie Bike." People got interested, but still no revolution of sorts!
OK, but where is the Marin County connection? In the late 1960's and early 70's there were a group of teens who called themselves The Larkspur Canyon Gang and they rode old 1930's single speed bikes that they added balloon tires to. They would ride thru Baltimore Canyon in Larkspur and on Mt. Tam. They became local legends who we can say birthed mountain biking here in Marin County. Using these balloon tires gave the riders the name "Ballooners." As their friends and friends of those friends got on board with this type of riding, a group of bike racers known as the Velo Club Tamalpais also took notice and they began finding and restoring old Schwinn, Colson and Shelby bikes…they would strip the bikes down, keeping just the heavy duty drive trains and were very into original and very cool paint jobs. Most of this group worked in local bike shops and were able to locate and get high performance, but hard to find, old bike parts, especially B.F. Goodrich knobby tires, Schwinn cantilever front brakes, S2 shiny chrome rims, Morrow coaster brakes and more.
As word street amongst local teen, the ideas, adaptations to individual bikes and this sport began a life of its own on " The Mountain" (Mt. Tam) as it was now called by all these riders. They found and rode the gravel roads and fire roads all over The Mountain. Most would and could access them from Larkspur, Ross, Fairfax and Mill Valley.
More and more Marinites discovered this type of riding, a new type of racing called "Repack"also began here. Because racing the steep slopes and downward parts of Mt. Tam (The Mountain), these riders would have to repack the grease in their brakes after each race because the high heat of constantly braking during the steep runs would completely eat up/use up what was there!
In 2006, a documentary film called Klunkerz: A Film About Mountain Bikes chronicles the Northern California history of the sport.
For more about information about life in Marin County, give me a quick call or email!