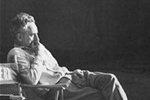 Looking for a fun activity on Monday nights in August?  Come to the Mill Valley Library and view some classics! 
Viva Zapata screens on August 1st.  (Brando in Steinbeck screenplay)
East Of Eden screens on August 8th.  (James Dean in Steinbeck screenplay)
On The Waterfront screens on August 15th.  (8 Oscars!)
Doors open at 7pm and are screened in the Creekside Room.  
Thanks to The Friends of The Mill Valley Library for sponsoring this series!
For more information, visit the Mill Valley Library calendar of events.
...