Meet the Distinguished Artists in San Rafael's West End Neighborhood
Posted by Marin Modern Team on Tuesday, February 4, 2014 at 8:00:19 PM
By Marin Modern Team / February 4, 2014
Comment
The West End Neighborhood in San Rafael is home to a number of distinguished artists.  Clustered on Fremont Hill, an off-the-beaten path neighborhood, are four diverse and accomplished artists who call the West End Neighborhood their home.
Davis Perkins - Landscape Painter

California landscape painter, Davis Perkins, has an unusual background. His art is inspired by a long career as a smoke jumper in Alaska, firefighter and paramedic where he experienced nature in its rawest form.  He would smoke jump in the summer for the BLM while attending the U. of Oregon where he got a degree in fine arts.  His early work was featured in solo exhibitions in the Alaska State Museum and the Smithsonian Air & Space Museum where they are in the permanent collection. Davis has been selected by the Oil Painters of America, National Juried Exhibitions for the past three years.  
He can be found in plein air or his studio in Art Works Downtown San Rafael when he's not generously helping out neighbors or traveling the world with a Disaster Medical Assist Team, a passion he and his wife Crystal share.
Helen Stanley - Painter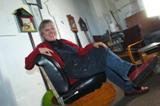 A story teller by nature, Helen Stanley was bedridden for most of her childhood so began drawing and painting to fend off loneliness and isolation. The Southwest where she grew up has inspired much of her art. She has been widely exhibited in many prestigious galleries and has had solo exhibits and exhibited with her husband, Rodger Jacobsen.

Helen is an amazing artist with such a range, imagination and love for the process of creating art. Whether drawing in her sketch book, taking objects from the natural environment and weaving them into her art, Helen is happiest in her cluttered, sunny studio located in an old warehouse building in San Rafael that she shares with 4 other artists.
Helen graduated from the Art Institute in San Francisco where she met Rodger Jacobsen.  Together they taught for over 25 years at City College and were instrumental in setting up the art department in Fort Mason. Although Helen has certainly sold plenty of her art, she has never cared much about making money. She and Rodger have lived in their quirky "hobbit"house on Fremont Hill for 50 years which has afforded them the freedom to pursue their art.
Rodger Jacobsen - Sculptor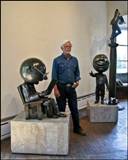 A well-known sculptor and free spirit, Rodger has lived on Fremont Hill for over 50 years in a quirky hobbit house down a private road. The location allows him the luxury of making as much noise as he wants when metal sculpting without annoying the neighbors.  A graduate of the Art Institute in San Francisco, he was head of their sculpture department and later joined forces with his wife, artist, Helen Stanley, teaching drawing and painting at City College in San Francisco.
Rodger's sculptures span many decades and have been on exhibit in many prestigious Museums and Galleries. A familiar sculpture to many Marinites is Explanation Point, an outdoor sculpture in from of City Hall in Sausalito.
Years ago Rodger purchased his first and only investment property in a not-so-great part of Oakland, the old Casket Company warehouse.  He turned it into artist lofts and kept the Casket Company sign painted on the building to ward off intruders. An icon on Fremont Hill, at age 70, Rodger can be seen silently whizzing up the hill on his electric bike.
Fred Cushing - Art Gallery Consultant and Teacher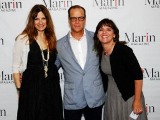 Fred Cushing works with Donna Seager and Suzanne Gray, owners of the premier Seager Gray Gallery on Sunnyside in Mill Valley. The Gallery showcases artists and attracts collectors from across the country.  Fred heads up the gallery's installation and consultation side of the business.
Growing up in the shadow of Manhattan, Fred was exposed to amazing art and theater.  He received a master of fine arts from North Carolina School of the Arts and  studied painting in Italy. He taught at San Francisco University High School for 25 years, first as an artist-in-residence, and then as a full-time teacher of studio art and theatre. He was Dean of Students his last 3 years at University High School. Landscape painting is his favorite art form in oils and water color.
Fred lives happily in his beautiful home on Fremont Hill with his husband and their dog. He served as Foreman of the Marin Grand Jury for two terms.
The West End Neighborhood in Central San Rafael is not your "cookie cutter" neighborhood.  If you like interesting and varied architecture, hillside privacy or main street friendliness, eclectic neighbors who add richness and character, call me.  I'll find a home for you in the West End of San Rafael (or wherever you would like to live!) and it will be a fun and rewarding experience.
Janis Peterson, Realtor, 415-271-3109 or [email protected]