Marin's own Three Twins Ice Cream celebrates 7 years
Posted by Marin Modern Team on Wednesday, August 29, 2012 at 6:55:32 AM
By Marin Modern Team / August 29, 2012
Comment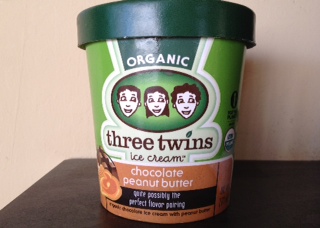 As a Marinite and ice cream lover, I was happy to celebrate the 7th Anniversary of organic ice cream maker, Three Twins, this week, with cones for our kids and several pints to take home. 
Three Twins got its start in San Rafael, in a small shop in Terra Linda, to be exact.  I remember before we had kids, going to the shop with my husband just weeks, or maybe it was days even, after it first opened.  It was love at first bite, as the ice cream is delicious - the best ice cream I'd had in memory.  We loved all of the flavors, from the original and enticing ones like Chocolate Orange Confetti, Roasted Peach and Dad's Cardamom, to their versions of the classics, such as Strawberry Je Ne Sais Quoi, Madagascar Vanilla and Bittersweet Chocolate.  Adding to the appeal of the ice cream in the early days, I'm sure, was the elusive quality of the special flavors - you never knew if they were going to have a batch of Stormy Night or Toasted Almond on hand when you got there.  It was really hard to wait for COC (our short-name for Chocolate Orange Confetti) to come around, but oh so exciting when it did. 
We have been regular visitors from the start - our periodic visits became an almost-weekly ritual after we had kids, when an exciting evening became Three Twins Ice Cream on a waffle cone (the cone was a must) and a movie, after the kids had finally gone to bed.  We quickly introduced our kids to the ice cream when they became old enough and that cinched Three Twins' - 3T, as we call it - status as a family favorite.
We weren't the only fans.  Our friends caught on quickly, as well, and Three Twins started appearing at birthday parties.  My affection for Three Twins grew as I heard stories of how they supported their communities, such as their donation of the chance to make your own flavor for a local school auction.  They also have a sense of humor, as evidenced in their offer of specially-created "gay" flavors such as Don't Ask Don't Tell (with undisclosed ingredients) and Hot Cookie in honor of Gay Pride week.
In the early days, my husband and I both remember seeing Neil Gottlieb sitting alone in the shop visit-after-visit.  We told him how much we loved his ice cream and that we hoped the company would succeed.  We meant what we said - I was genuinely rooting for them, but at the same time, I remember feeling this instinct to cheer Neil up, as he always seemed a little somber.  Since then, as the company has grown and their story has gotten out, I have heard about how Neil got his start and how hard he worked in the early days, and I can understand why he may have been somber: it must have been lonely working in the shop those long early days day-after-day, not knowing whether the company would succeed.
Today, Three Twins is sold in 35 states - they've come a long way since those early days.  And they are the subject of Facebook posts (I know because I read some of those very enthusiastic posts from my friends' just this week).  They don't seem to do as many of the more exotic, occasional flavors as they used to, but have added some new favorites to their repertoire, such as Lemon Cookie and Sea Salted Caramel.  We don't see Neil behind the counter anymore - that's okay, he's earned his time away from the store.  I suspect he's busy continuing to build his ice cream empire. 
It's somehow seems natural that a company like Three Twins was born in Marin and has grown up here.  Perhaps it's the combination of organic, sophisticated, good quality with a touch of fun - if you haven't tried Three Twins ice cream, you should.  It could provide a nice break during a day of house-hunting, as well as serve a helpful reminder about you why you are willing to pay the relatively high cost of a home to live here.