Marin Open Studios Kick Off Event - Saturday, April 28th, 5-8 p.m.
Posted by Marin Modern Team on Thursday, April 26, 2012 at 9:50:58 PM
By Marin Modern Team / April 26, 2012
Comment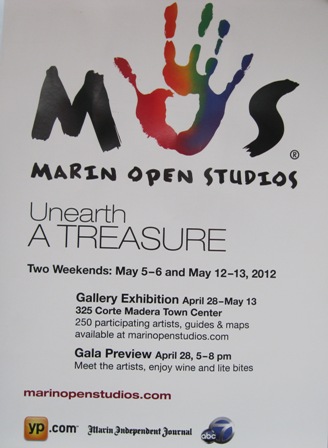 Looking for something fun to do this weekend?  Marin Open Studios is a community-wide event that celebrates over 260 artists who open their studios to the public for two weekends.  The kick off for Open Studios starts Saturday with wine and nibbles from 5-8 p.m. at the Town Center in Corte Madera.  You'll meet the artists, get to enjoy one of their works of art that will be on display and pick up an Artist Guide to plan your own Open Studio art tour.
Artist, Davis Perkins, who resides in San Rafael's West End Neighborhood, was featured recently in a Marin IJ article as a precursor to the Open Studio event. Davis lives up the hill from me and is a fantastic landscape artist and a great neighbor.  As a plein-air artist, he started painting when he was a smoke jumper in Alaska, witnessing some of the most spectacular scenes of nature and having the experience of a lifetime.  After a long career as a paramedic he retired a couple of years ago to pursue his art full-time and with great success. When he's not painting, Davis is checking in on elderly neighbors, traveling to disaster zones with a specialized Red Cross team or participating in humanitarian missions to Haiti. Visit his website, www.davisperkins.com and stop by his studio at Artworks in Downtown San Rafael during the Open Studio weekend.  Artworks in San Rafael is home to many artists in Marin so put it on your list when planning your Open Studio tour.
415-271-3109 or [email protected]