Marin Open House Guide and tips
Posted by Hilary Davis on Sunday, July 28, 2013 at 9:21:27 AM
By Hilary Davis / July 28, 2013
Comment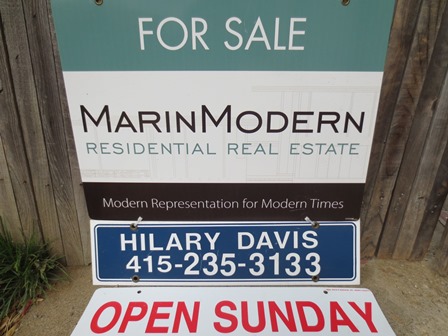 Despite the low inventory of homes for sale in Marin County, there are over 200 OPEN HOUSES this weekend throughout Marin to check out (link to open house guide at bottom)!
As you probably know, the real estate market took a big upswing early this year resulting in multiple offers and over bidding.  Buyers who want to get into the market are looking at all angles for getting their offers accepted. Your interaction with the listing agent at the open house may set the tone for how your offer is received, should you make an offer on that property. Therefore I have a few how-to tips for successfully viewing open houses.
Tips for a productive OPEN HOUSE outing:
Prior to leaving your house:
1.      Identify what homes you want to see.
2.      Note the time they are open. Most are open 1-4pm or 2-4pm.
3.      Plan your route so you can see the most homes (I recommend no more than 8) in the three hour time frame. Call or email me to help you set up your tour.
At the open house:
1.      Introduce yourself to the agent hosting the open house and let them know what agent sent you (if you don't have an agent-call me and see if I am a good fit for you). This lets the host know that you are a represented buyer (most likely pre-approved and serious) and that you have a reputable agent on your side.
2.      Stay positive in your comments.  If you are at a home that you anticipate making an offer on please verbalize to the host what you love about the home and how great it will work for you. Do not startverbally bashing the property or negotiating with host about price, etc. Remember-you can catch more bees with honey than vinegar and if you go into a multiple offer situation we want the listing agent to remember you fondly...every angle matters!
3.      If you really like the home, ask the listing agent to send your agent a disclosure package and ask when offers are due. Call your agent immediately and so they can follow up on everything quickly.
Basics:
1.      Eat before you go...looking at homes takes energy.
2.      Wear shoes that can slip off easily...often homes have a no shoe policy.
3.      Bring water.
4.      Take notes/take photos.
5.      Have fun
Here is your quick and easy link to Marin County Sunday Open Homes.
I look at properties all the time and I can give you first hand insight into a listing.  Call or email me to see if I have viewed a home on your "to see list"...I can often save you time and hassle. If I am not already booked with a client I would love to go to the open houses with you! I was born and raised in Marin and know the county well.  I have a long list of very happy clients and welcome the opportunity to meet with you and help you too!
Have a great weekend and let's look at some properties together!
Have a house to sell first?  I can help...go to www.CMAbyHilaryDavis.com to find out what your home value is.
Hilary Davis, Realtor    415-235-3133    [email protected]