Marin Modern featured in California Real Estate Magazine
Posted by Marin Modern Team on Tuesday, August 7, 2012 at 2:58:55 PM
By Marin Modern Team / August 7, 2012
Comment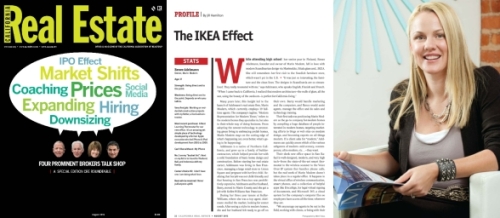 (Photo credit: California Real Estate Magazine)
I'm delighted to announce that Marin Modern Real Estate was featured in this month's issue of California Real Estate Magazine, the official publication of the California Association of REALTORS®, which has readership of more than 160,000 REALTORS across California.
The article was a 3-page spread in the August 2012 issue of California Real Estate Magazine which highlighted the evolution (or should I say revolution!) of our hip and "technology forward" real estate brokerage.     While I don't want steal any thunder from Jill Hamilton, the writer who interviewed me for the story, the piece covers:
My "early years" in real estate when I was a top-producing agent with Keller Williams Realty.
The creation of Marin Modern Real Estate. While our initial focus as a company was to establish ourselves as the go-to real estate brokerage for modern, architectural properties in Marin County (which we achieved), our real goal was to create a refreshingly "new school" and technology-enabled real estate brokerage which was truly client and agent-focused from the get-go. While we constantly strive to exceed the needs of our clients (and agents) we are grateful for the success we've found thus far - consistent double digit growth in both our sales and transaction volume each year since our firm's inception. We have YOU to thank for our success!
Finally, the article references the expansion of our brand and expertise beyond Marin County. Our company is now positioned to deliver "high tech, high touch" real estate representation in the East Bay (East Bay Modern Real Estate) as well as San Francisco (San Francisco Modern Real Estate).
I hope you enjoy the article and would encourage you to contact me (or any member of my team) for assistance with your real estate needs in Marin, San Francisco, or the East Bay.  We are truly grateful for the support you've provided to us over the years and we look forward to being your go-to brokerage for all of your residential real estate needs in the San Francisco Bay Area.
Finally, if you are a fellow REALTOR who would like to speak with us about career opportunities in the Bay Area, please feel free to give me a call or visit Upgrade to Marin Modern Real Estate. We are selectively hiring great agents in Marin, San Francisco as well as the East Bay and would welcome the opportunity to speak with you!
RENEE ADELMANN, Realtor & Owner
Marin Modern Real Estate / San Francisco Modern Real Estate / East Bay Modern Real Estate
Phone: 415-342-4537