Marin Humane Society - The Place To Go For Lost Pets
Posted by Kathleen Emrey on Saturday, May 17, 2014 at 6:52:18 AM
By Kathleen Emrey / May 17, 2014
Comment
Our pets are family; we cherish them and try to keep them safe.
When my beloved 15-year-old cat, Blanche, disappeared I was devastated. At first I didn't know what to do. After checking all of the hiding places in the house and asking neighbors, I went to the Marin Humane Society - a Marin County treasure. The staff was so helpful and understanding and said that visiting the shelter and utilizing its resources would increase my chances of finding her.                                                                                                                                                                       

At the front counter a staff person helped me fill out a lost report and insert it into the specific binder for Lost cats. It is somewhat heartbreaking to see the number of owners who have filled out these reports. Then I was shown the separate binder for Found cats. This binder offers hope and thankfulness for the people who have brought in kitties they deemed as lost.
I was asked if Blanche had a microchip for easy identification and was somewhat reassured when I said that she did indeed have one. 
A volunteer then escorted me to the feline housing to see if she was in one of the various sections: stray, adoption, isolation and quarantine. Unfortunately she was not there but I was impressed by the level of care the cats received.
Each evening after 6:00 pm I called 415-883-4621 then punched in 378 for lost cats and listened to a recording which was updated daily for all strays brought in during the past 48 hours. There is also an extension for lost dogs and other animals.
I also emailed to [email protected] a photo of Blanche with my name, the date, phone number and city where she went missing.
A helpful pamphlet that was offered outlined other avenues such as posting on Craigslist, calling local veterinarians, hanging signs and distributing flyers to neighbors, the mail carrier and other locals.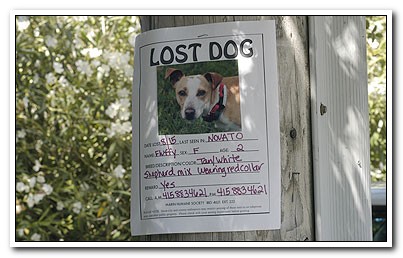 Two helpful websites that were recommended are catsinthebag.org and missingpetpartnership.org. These two sites offer invaluable tips.
Sadly Blanche never returned but I felt I had done all possible to find her and will always be grateful to the Marin Humane Society for providing me so much help and support. On a very positive note, it is also where I found my new love, Rose.