Marin Eichler Homes Market Summary for Q1, 2011
Posted by Marin Modern Team on Monday, April 18, 2011 at 7:01:30 AM
By Marin Modern Team / April 18, 2011
Comment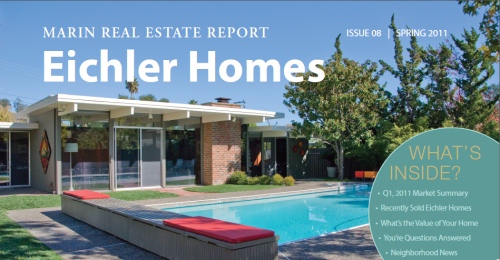 With the first 3 months of 2011 behind us, I wanted to provide fellow Eichler homeowners with a summary of the current market for our homes.
Only 8 Eichler homes were sold in Marin during the first 3 months of the year, all of them located in San Rafael. The least expensive Eichler sold for $595,000 (and was originally listed at $885,000). The most expensive Eichler sold for $1,165,000 and was located in Upper Lucas Valley.
Eichler sales were slow during the first quarter of this year and many of the homes which sold were properties that had been on the market for a considerable amount of time and finally sold for a fraction of their original asking price. As mentioned in my last update, this illustrates the importance of having an experienced Eichler Agent list, prepare and help price your home from the start since longer days on market typically result in a lower sales price. The Q1, 2011 sales chart presented below illustrates this as homes with the longest days on market typically sold for a much lower percentage of their original asking price and also for less than recent average sale prices in their neighborhoods.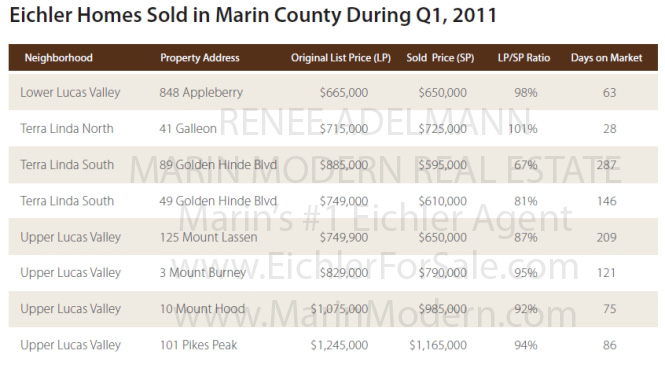 With Spring upon us, I expect more Eichler buyers to enter the market and would encourage you to contact me if you are thinking about selling your Eichler home. Last year my Eichler listings sold on average for 98% of their asking price in just 40 days. Homes that were not listed by me on average sold for only 92% of their asking price and took more than 2.5 times longer (103 days) to sell.
Finally, I wanted to remind you know that I am the exclusive real estate sponsor of the Dwell / Marin Magazine Modern Home Tour in Marin scheduled for later this month. If you purchase tickets for this event online, use promotion code "MarinModern" to save 10% on your ticket purchase.
Thanks and contact me directly at 1-415-EICHLER (415-342-4537) if I can assist you with your real estate needs in 2011!

Renee Adelmann, Realtor
Marin Modern Real Estate
Phone: 415-342-4537
#1 Agent in Marin for Sold Eichler Homes (2007-2010)
#1 Agent in San Rafael for Sold Homes (2010)
Top 1% of Realtors in Marin County for both Sales & Transaction Volume (2010)
---
This information is based on sales reported in Bay Area Real Estate Information Services, Inc. (BAREIS) and is not verified and is subject to change. Listings represented may not have been listed or sold by Renee Adelmann / Marin Modern Real Estate.