Marin County Real Estate Buyer Workshop
Posted by Renee Adelmann on Monday, February 13, 2012 at 11:15:38 AM
By Renee Adelmann / February 13, 2012
Comment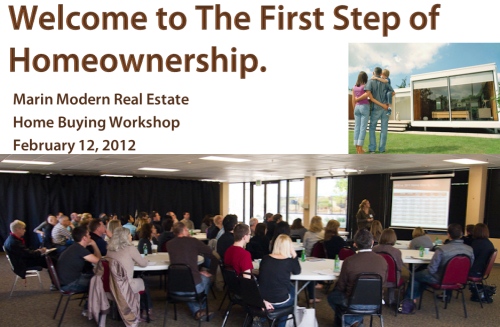 Yesterday we hosted a Marin First Time Home Buyer Seminar and I wanted to thank those of you that participated in this workshop.
While we spent less than 2 weeks promoting this event, we were delighted with the level of interest and number of attendees (50+) that came to learn more about the home buying process in Marin County.     Everyone had great questions and we really enjoyed hosting the event for you!
During the event we reviewed some general information regarding the Marin real estate market and the home buying process including:
Market Real Estate Market Update presentation by Renee Adelmann
Financial Planning presentation by Katy Song
Mortgage Financing presentation by Nicholas Ballard
Steps for Finding & Purchasing Your Home presentation by Renee Adelmann
Given the high level of interest in this event and extremely positive feedback we received from attendees, we intend to host a similar workshop in the very near future.   If you'd like to sign-up for future workshops, please visit http://www.marinmodern.com/first-time-buyers.php. 
If you would like immediate assistance with your real estate needs, feel free to call me directly at 415-342-4537.
RENEE ADELMANN, REALTOR & OWNER
Marin Modern Real Estate / San Francisco Modern Real Estate / East Bay Modern Real Estate