Marin County Civic Center Turns 50 in 2013!
Posted by Cari Gennarelli on Saturday, October 26, 2013 at 2:34:44 PM
By Cari Gennarelli / October 26, 2013
Comment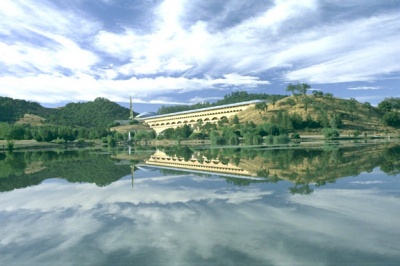 Turning 50 this year just got a little more hip! Frank Lloyd Wrights iconic Marin County Civic Center also turned 50 this year and it looks damn good!
I grew up on San Rafael Hill, close to the Marin Civic Center and had a neighbor, Mr. Holeman whose claim to fame was building the Civic Center. Well...as a kid that was my interpretation.  I loved telling people about my cool neighbor who "built" the Civic Center but had no idea who Frank Lloyd Wright was and how truly transformational the architect and his structures were and continue to be. I knew there was something special about hte structure but did not know how fortunate we were to have a Frank Lloyd Wright designed building in our city.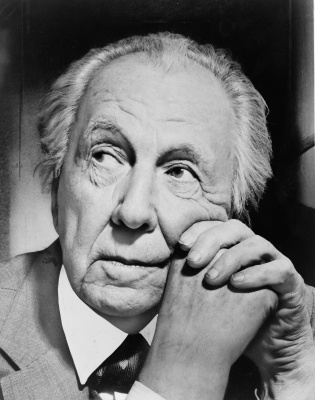 Working at Marin Modern and dating a modern enthusiast/designer has deepened my appreciation for Modern Architecture and for Frank Lloyd Wright. I am a true convert. Trading Vintage and Shabby Chic for clean lines, uncluttered spaces and a modern esthetic.
My first coffee table had an Oak top with turned legs. I grew to hate everything about that table. The color, the cheap wood the turned legs. I recently invested in a modern coffee table, designed and produced by a small furniture manufacture in Canada, IZM at an amazing modern furniture store in Hayes Valley, Propeller. Ok...sorry. Off track but now I can't stop picturing my new coffee table and beautiful media cabinet I ordered on Saturday with Lorn at Propeller. 
My point is Modern design and architecture is timeless! That cheap oak table was a throw away but the sleek modern replacement will never tire. Frank Lloyd Wright, Eichler, William Turnbull and many other modern architects brought us design and structures that have and will last through the decades.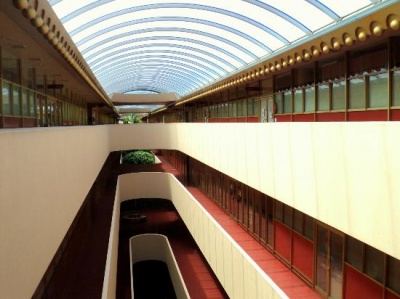 The Marin County Civic Center is a great example. It stays true to his love of the nature and organic architecture. It may not be the most conveniently designed space for those that work there with the long halls and expansive open design spaces  but it's still as relevant today as it was 50 years ago.
The building incorporates Mr.Wrights belief in organic architecture and it's direct relationship with nature. He apparently stood on the rolling hills and envisioned a structure that bridged them. The long coordiors that are filled with plants were designed to be opened to the elements but later skylights were added and the building is flooded with natural light.
The Marin Civic Center has always been a part of my life. It truly is the "center' of San Rafael and acts as an anchor for Marin. As a child we went to the Marin County Fair on the grounds, watched productions in the concert hall or visited the lagoon to feed the ducks. As an adult I attended temple services in the great hall, brought my son to the fair and most recently went into the vast hallways of the center to pay my first moving violation ticket. That was not fun!

The civic center continues to offer relevant and modern services bringing people to it's grounds and many structures.  I recently met the new Director of the Marin Symphony. He is young and enthusiastic and determined to wake up and modernize the symphony making it relevant to people of all ages. I think Mr. Wright would appreciate his vision.
Frank Lloyd Wright, like most brilliant creators was controversial at times, something of a scoundrel and often demanded impossible results from his team but maybe that's what it takes to have a hyper focused vision and crazy talent and produce some of the worlds most groundbreaking structures.
In some way as a kid I knew intuitively that the Marin Civic Center building was special. I am proud and honored to have a Frank Lloyd Wright designed building in my home town.
There are many ways you can enjoy the Marin Civic Center compound, besides paying a traffic ticket.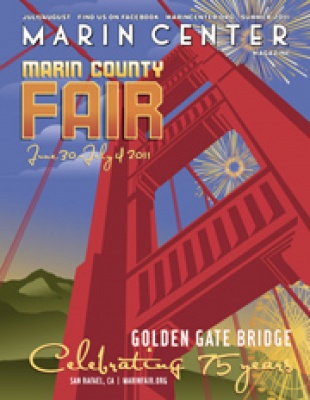 The Farmers Market on Thursday and Sunday
Marin Symphony and other productions
Marin County Fair in June/July
Stroll around the park and lagoon and feed the ducks or have a picnic
The Marin County Civic Center, modern marvel, is there for all of us to enjoy! Visit soon!